Class II Biosafety Cabinets
Product Announcement from Baker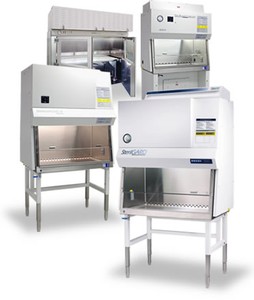 Internationally recognized for our research and development of Class II Biosafety Cabinets, The Baker Company offers a complete line of cabinets to meet the requirements for the protection of product, personnel and the environment from microorganisms and aerosols. Every Baker biological safety cabinet offers an adaptive ergonomic design, combined with a unique airflow management system and proven containment technology, to improve comfort, increase productivity and reduce the costs of ownership.
Superior safety: features exclusive to Class II cabinets from The Baker Company make our cabinets the safest on the market:
• Work area surrounded by negative pressure, double-wall plenums for superior protection
• Momentum air curtain creates a high velocity filtered air barrier at the front of the cabinet.
• StediFLOW™ self-adjusting motor technology uses less energy and extends filter life without sacrificing performance (available for SterilGARD® e3 only)
• Cable ports through negative pressure side walls provides convenient access to cables and tubing with an unobstructed work area
Unrivaled comfort: features exclusive to Class II cabinets from The Baker Company make our cabinets the most comfortable and productive on the market:
• Exclusive ReadySAFE™ mode on SterilGARD® e3 allows the cabinet to continuously operate and maintain safe conditions while the viewscreen is closed. An industry first, ReadySAFE™ allows the user to leave the cabinet for lunch, meetings, or even overnight.
• Slanted 10º viewscreen and 125 foot-candles illumination provides superior visibility.
• StediFLOW ™ technology produces less heat, operates more quietly and produces less heat. (SterilGARD® e3 only)
• Largest, unobstructed, usable work area.
You have successfully added from to your part list.
---