Custom electric motors - in days!
Product Announcement from Baldor Electric Company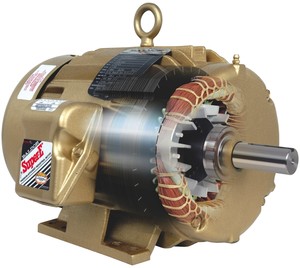 Why compromise by using a motor that's 'nearly right' or over-specced, when Baldor will create the optimal solution? Baldor will customize motors to meet your exact need, from special windings to custom paint jobs. Whatever your needs, our unique 'flex flow' line will build it for you - fast!
We can't possibly list all the customization features we can perform for your next project. But we can give you a general idea of the type of custom work we perform everyday. But these are common requirements that are easily handled:
Enclosures
Motors are available in Totally Enclosed Fan Cooled, Totally Enclosed Non-Enclosed Non-Ventilated, Totally Enclosed Air Over, Totally Enclosed Blower Cooled, Explosion Proof and Open Drip Proof. Stator housings are available in cast iron, stainless steel, steel and extruded aluminum. Weather Protected Type I and II are also available on NEMA frames.
Colors and finishes
Baldor is able to supply in practically any color, shade or finish. Just provide the color you want and we'll match it. Hammer tone, epoxy finishes or food grade paints are also available.
Conduit boxes
Conduit box location can depend on your application. Terminal blocks can be provided. Special boxes for Explosion Proof, Severe Duty and Washdown applications are also available.
Base mounts
In addition to the standard NEMA and IEC metric mounting, pre-1964 and pre-1952 NEMA mountings can be produced. We also manufacture numerous sidewall and ceiling mount designs. Unique mounting configurations can be developed to match your specs.
Windings
Part winding, start, wye-delta, multi-speed and other special winding configurations, in 50 or 60 Hz are available. Special winding protection includes vacuum pressure impregnation (VPI), epoxy encapsulation, tropicalization and weatherproofing. Power cords with plugs, connectors, or special lengths and lead colors are available.
Bearings
Open, single shield, double shield or sealed bearings can be provided. Depending on your application, rolling element bearings (ball, roller, thrust or sleeve bearings) may be available. All bearing choices can be provided with standard temperature, low temperature, high temperature, food grade or customer supplied grease. Thermocouples added to the bearing housing or BTDs (bearing temperature detectors) can be included.
Shafts
Baldor has designed and manufactured custom shafts in over 30,000 different configurations. Motor shafts can be designed to fit applications requiring special lengths, diameters, materials or custom machining. A few other custom shaft features available include: flats on shafts, threads, drilled and tapped holes, tang shafts, tapered shafts, and shafts requiring internal or external splines. Motors can ordered in double shaft configurations with custom machining on both ends. materials include many types of steel alloys including stainless steel.
Mounting configurations
Numerous face mounting designs are available including standard NEMA C or D flanges as well as P base designs. Metric faces and flanges can also be ordered. Other mounting types include hydraulic two and four bolt pump mounts, square flange pump mounts and close-coupled pump mounts. Custom variations on any of these can be provided.
For more information please contact: Baldor Electric Company, PO Box 2400, Fort Smith, Arkansas 72902-2400, USA. Tel: (479) 646-4711; www.baldor.com.
You have successfully added from to your part list.
---