Super Energy Effecient Motors
Product Announcement from Baldor Electric Company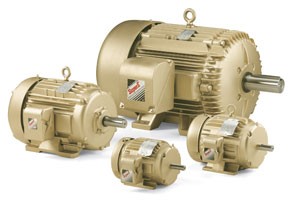 These motors are used to power production processes and heating, cooling and ventilation systems.
Improvements to the efficiency of motorized equipment can therefore result in a significant impact to the overall profitability of manufacturing plants.
Baldor understands the impact of electric motor energy efficiency to the "bottom line". Many years ago in 1983, Baldor debuted the premium efficient Super-E motor line, an industry first. Since then Baldor has maintained the lead in providing the most energy efficient electric motors and drives in the industry.
Purchase Price is Only a Small Piece of the Pie
The pie chart to the left shows the typical life cycle cost of a 100 Hp motor operating in continuous duty over a 20-year life. As you can see, the original purchase price is almost insignificant compared to what it will cost to power the motor during its useful life.
BE$Tâ"¢ Baldor Energy Savings Tool Makes Calculating Payback Easy
In order to make payback calculations easier for customers, Baldor developed BE$T, Baldor Energy Savings Tool. The software helps calculate energy cost and energy savings for motors, as well as payback time frames. A popular feature of BE$T is that it allows users to make head-to-head comparisons of up to three motors, giving customers the information to make an informed decision through comparative analysis.
Click to learn more about BE$T Baldor Energy Savings Tool
Baldor Announces Upgrades to Efficiency of Motor Line
The Baldor Motor line is being upgraded to meet the energy efficiency requirements of the Energy Independence and Security Act of 2007 ("EISA†). Under EISA, all general purpose motors, from 1 to 200 horsepower, manufactured in the United States after December 19, 2010, must meet higher efficiency levels.
Baldor will offer customers two broad lines of energy-efficient motors in response the EISA:
Compliance for General-purpose Subtype I motors will be by our Super-E family of motors that meet or exceed NEMA Premium® efficiency levels of NEMA MG1, table 12-12.

The efficiency for 1-200 HP Subtype II motors and the 201-500 HP motors will be met by Baldor's Standard-E motors; providing efficiency levels compliant with the requirements. Efficiency levels will be adjusted on some motors to meet EISA levels of NEMA MG1, table 12-11. Super-E NEMA Premium® efficient motors are available for these ratings that exceed EISA requirements for companies wishing to save on electrical costs.
The first to announce a plan to upgrade an existing line of standard motors to meet EPAct requirements, Baldor's effort encompasses over 2,000 stock motor ratings.
Additional Links
Requirements of the Energy Independence and Security Act of 2007
A Proven Approach to Reducing Electricity Costs
Super-E Motor Line - Savings Go Straight To The Bottom Line
Baldor Super-E Motor Line Pays Back in a Few Months
You have successfully added from to your part list.
---