Product Announcement from Baumer Ltd.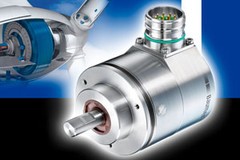 Encoders installed in wind turbines have to endure harsh environments and ensure absolutely dependable operation since repair and maintenance at offshore locations are especially difficult and expensive. Often strong magnetic fields come into play when the encoders are installed close to generators or magnetic brakes.

The new durable absolute encoder GXL2W easily meets the demanding requirements of wind turbines. The non-contact optical sensing principle is wear-free and withstands frequent temperature fluctuations, vibrations and strong magnetic fields. The gearless construction concept results in a very limited number of components extending the encoder's service life. Complementary to the SSI interface, the encoders provide incremental signals that enable position detection and top-efficient motorfeedback by a single encoder, perfect for use in pitch and yaw control of the nacelle.
The encoders furthermore allow for compact slip rings that provide more benefits. Self-diagnosing, and featuring position continuity checks, the encoder will detect any malfunction well in advance. This enables predictive and preventative maintenance to avoid downtimes. For offshore and cold-climate applications there are stainless steel configurations available that can operate at temperatures as low as -40°C. The durable shaft-lock construction is unaffected by heavy shaft loads.

GXL2W is a further enhancement of Baumer's proven "Touchless" encoder series GM400 which has been deployed at large quantities in wind turbines for over 15 years.
You have successfully added from to your part list.
---