Award Winning Image Products Aid Automation Market
Product Announcement from Baumer Ltd.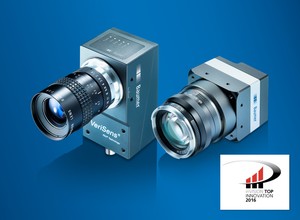 Baumer's portfolio of industrial cameras and smart vision sensors are designed to solve challenges in the factory automation and assembly and handling industries. Both the LX VisualApplets cameras with integrated image preprocessing and VeriSens vision sensors with Color FEX 3D color assistant won inVISION Top Innovations 2016 awards.
Baumer's LX VisualApplets cameras incorporate onboard image preprocessing, removing the need for frame grabbers and decreasing overall system cost. Additionally, their easy programming interface allows for rapid setup and adjustment and decreased system downtime. More information on LX VisualApplets cameras is available at: www.baumer.com/VisualApplets-Cameras.
VeriSens XC series smart vision sensors are revolutionizing color setup and inspection due to an integrated Color FEX 3D assistant. This feature drastically reduces the number of required color parameters during setup, allowing much faster and safer integration even without highly specialized knowledge. For more information on VeriSens models with Color FEX see www.baumer.com/ColorFEX.
Each year the trade journal inVISION awards prizes for ten outstandingly innovative products and technologies in the field of image processing and optical metrology. In 2016 Baumer became the first manufacturer to have two products selected in the same year.
For general information about Baumer products, please click www.baumer.com.
---