CleverLevel: The all-around level switch
Product Announcement from Baumer Ltd.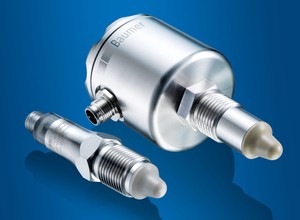 The new CleverLevel LBFS/LFFS series level switch from Baumer is a true "all-arounder" that offers numerous advantages and is more than a mere alternative to traditional vibrating fork technology.

The CleverLevel can be used for nearly all media, such as liquids and granulates, but also electrostatic media. It is also unaffected by adhesive substances or foams that could cause other technologies to have switching errors. For users, this not only means the utmost reliability, but also a wide variety of level measurement options.

Baumer has utilized frequency deviation technology in the CleverLevel. This method capitalizes on the fact that every material, regardless of its consistency, has a dielectric constant specific to that medium, and therefore a particular permeability for electrical fields. Innovation is not only evident in the technology, but also in the fact that the level switch is cost-effective and efficient to use. This product works with 90 percent of all typical media without any additional parameterization. The switching status at the switch itself is indicated with bright blue LEDs that have 360 degree visibility.

These features enable the CleverLevel series to be utilized in a wide variety of ways, which creates distinct advantages for the user since this level switch is capable of solving various tasks in the industrial and hygiene sectors. The CleverLevel can reliably detect fill levels in tanks or pipes with precision and a response time of less than 100 ms, thereby, for example, preventing pumps from running dry. It is also capable of differentiating various media. Hence, the same device can be used to differentiate between two different substances in the same container, such as water and oil, or to detect any cleaning agent residue in liquid food products.
The CleverLevel features a 1.4404 stainless steel housing and matching PM023 weld-in boss. The sensor tip consists of a specifically approved PEEK plastic and protrudes only 18 millimeters into the container or tube to avoid flow blockages or undesirable shadow casting. Also sealed to IP67, the device has a wide rated operating temperature range of -40 to +115°C.
For more information contact Baumer at 1-800-937-9336 or sales.us@baumer.com.
---