New O300 Series 1-Inch Photoelectric Sensors
Product Announcement from Baumer Ltd.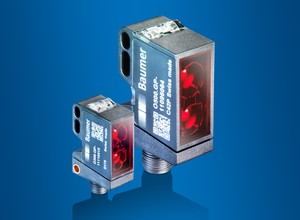 Baumer has expanded its range of NextGen sensors. Following the O500 is the new O300 Series. Both optical sensors offer the same outstanding performance. While the small O300 is especially suited for systems with very limited space, the O500 distinguishes itself in applications that require a greater range. The customer can choose a sensor that is perfect for the application.
With the O300, Baumer provides an outstanding solution for 1-inch mounting sizes. Here, the O300 offers the largest sensing range in its size class while simultaneously giving the highest level of reliability through extended power reserves. On the other hand, insensitivity to ambient light allows the O300 to function perfectly under difficult lighting conditions. And the latest generation Baumer Opto-ASIC provides color independent detection of objects.
The O300 also sets the standard for ease of assembly. The light beam is pre-aligned with the mounting holes, reducing the adjustment required to an absolute minimum and saving on installation costs. The pressed metal sleeve also guarantees a robust and reliable installation. During operation the sensor provides a long service life, thanks to a completely sealed and extremely stable housing.
The contactless teach-in method also contributes to the sensor's longevity. A conventional mechanical pressure switch with moving parts is usually used, which in the long term can suffer from wear and tear and problems with leaks, but this is not possible with the qTeach facility in the O300 series. Contacting the teach surface with any ferromagnetic tool, such as a screwdriver, is sufficient to program the sensor. A blue LED light provides clear visual feedback, which thanks to its exposed position atop the sensor is clearly visible from all sides.
This new class of optical sensor employs three sensor principles. Firstly, the light sensor has background suppression, guaranteeing the greatest reliability in detecting objects. Secondly, the retro-reflective sensor works reliably, even with reflective surfaces. It is characterized by an exceptionally long service life due to its increased resistance to dirt. And finally, SmartReflect, a technology developed by Baumer, allows this light barrier to work without any separate reflector. With SmartReflect, downtime due to a defective or dirty reflector is a thing of the past. All three devices offer maximum safety and dirt resistance while reducing the total cost of ownership.
You have successfully added from to your part list.
---