Link-Assist Service - Beck Engineering
Product Announcement from Beck, Harold Beck & Sons, Inc.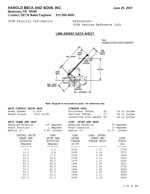 Beck can supply you with the recommended linkage length, crank/lever arm start angles, and crank/lever arm radii. This information is available in a date-stamped comprehensive report that also provides the delivered torque and force profiles throughout travel.
Link-Assist reports can be generated for new installations or to ensure optimal setup of existing installations. Download a sample of a completed Link-Assist Report by clicking the icon above.
To view the Link Assist Measurement Instructions via video, please click here.
---