VFD Cables
Product Announcement from Belden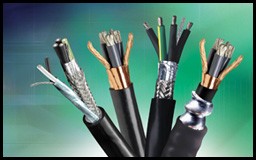 Variable-frequency AC motor drive output cables are subject to harsh operating environments characterized by high voltage spikes, high noise levels and adverse environmental conditions. Typical cabling solutions for this application have been unshielded tray cables, single-conductor lead wire installed in conduit or continuously-welded armored cable. These solutions suffer from complex, costly installation and potential reliability problems. Belden Variable-frequency Drive (VFD) cables were designed and engineered to overcome these challenges.
VFD cables carry power from AC drive systems to AC motors. As a result, these cables must handle not only the overall high power levels of the pulse-width modulated (PWM) signals, but also the extremely high voltage which can occur when standing waves develop on the conductors. This high voltage can cause corona discharges to occur between the conductors of conventional cables, causing damage not only to the cabling itself, but also to the motors, bearings, drives and related equipment. In turn, this damage can cause failure of the entire drive system, resulting in costly production downtime.
In addition to experiencing failures due to corona discharge and adverse environmental conditions, conventional VFD cabling is difficult and expensive to install. Armored cable and lead wire in conduit are cumbersome and require extremely large installation bending radii, making installation both time consuming and labor intensive. Yet they still do not solve noise and corona discharge problems, nor do they effectively address the high levels of noise generated by VFDs.
---