Films for woodworking
Product Announcement from Bemis Associates Inc.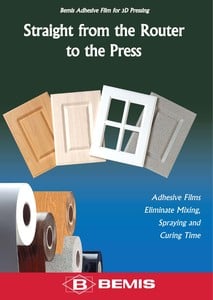 Increase your productivity and your product quality with Bemis Heat Seal Adhesives. Not only will a Bemis film adhesive provide a secure bond in your decorative laminate, but the extra thickness can mask slight imperfections in the wood substrates such as particle board and MDF. The use of Bemis Heat Seal Adhesives instead of traditional spray adhesives for membrane press applications speeds the process of applying decorative overlay; no drying or curing time is needed. Vacuum or membrane press cycle times are also reduced - which provides for more efficient utilization of equipment and personnel.

Laminates are one of the fastest growing application areas for Bemis Heat Seal Adhesives today. Our high performance films of uniformly dispersed 100% solid thermoplastic adhesives are ideal for sealing decorative laminates to cabinets, cabinet doors and ready-to-assemble furniture.
---