Gas Line Heaters and Insulators SemiConductor apps
Product Announcement from Benchmark Thermal Corp.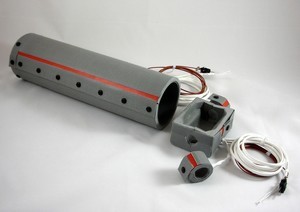 Benchmark provides the semiconductor industry with a full compliment of thermal components with the following features:
Uniform or profiled heat throughout or in discrete zones.
Temperatures to 475 DegF (246 DegC).
Temperature control through thermocouples or imbedded thermostats.
Overtemperature protection through thermostats or thermal fuses.
Control of surface temperature by insulation provides operator safety.
Nylon coated snaps for operator protection.
Clean room compatibility.
Foam molded parts for precision fit.
Stock and custom configurations .
Agency approvals and conformance to UL, CE, and NEC 427.
Benchmark Thermal holds a competitive advantage with... Price. Never pay for quality you don't receive. Continuous innovation into processes and materials keep Benchmark Thermal ahead of the competition in price and quality. Performance. No amount of price reduction can compensate for poor performance. Benchmark Thermal has been manufacturing heaters since 1984 with high quality and low defect rates. Processes and controls meet the standards of ISO 9002 with traceability on key components. Support. When you want answers, there's nothing worse than hearing "voice mail." At Benchmark Thermal a real human is there to answer questions with the technical expertise to do the job. We have a fully staffed engineering department with the tools to craft any heater design. Physical Specifications
For gas lines from .250" O.D. thru .750" O.D.
Available colors are Orange, Gray, and Green.
Insulation Thickness .250", .375", or .500".
Maximum Temperature 475 Deg F (246 Deg C).
Voltages from 12 volts to 240 volts (depending on amperage. Consult factory).
Interconnect sections up to 10 amps.
U.L. and CE marked and approved.
Electrical Specifications
Watt density from 1 to 5 watts per sq. inch.
12 Volts-240 Volts available. Consult factory for amperage and resistance values.
Positive mating connectors from Amp connectors, rated up to 10 amps.
Heaters have power-in and power-out leads for inter-connectability.
Safety can be accomplished with thermostats, thermal fuses and thermocouples, per customer design requirements.
Physical Properties
Jacket material .028 cured silicone sheet fiberglass reinforced.
Fasteners are snap style nylon coated for operator protection
Colors can be orange, green, or gray.
Click Here for a Twist Tape PDF brochure
Benchmark Thermal WE ARE the human element in the heating element. No job is too difficult.
BENCHMARK THERMAL has been a full line manufacturer of industrial heating elements since 1984. Serving a wide variety of industries from food processing, semiconductors, petrochemical, to medical devices, Benchmark has offered innovative solutions for complex and technical applications.
Benchmark Thermal is your complete heater manufacturing facility of flexible, semiconductor and cartridge elements. Our engineering department is fully equipped to meet any heater design requirement. We provide product support with thorough testing and evaluation, and are committed to the ongoing research and development of new and improved products for evolving applications.
Since 1984 Benchmark Thermal has been delivering quality heating elements at competitive prices. Our attention to detail and customer service is a benchmark in the industry. From small flexible circuits to large circulation vessels with control panels, Benchmark supplies a full range of heating elements essential to industry.
Contact Benchmark Thermal Manufacturers of Electrical Heating elements and controls for Industry
You have successfully added from to your part list.
---