Medium Voltage Standard
Product Announcement from Benshaw, Inc.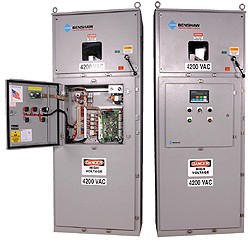 Prepackaged Solid State Starters with ATL Bypass
Benshaw's MVRXE Series is a family of microprocessor controlled solid state reduced voltage starters for three phase induction motors. MVRXE Series starters provide a closed-loop current ramp for smooth stepless motor acceleration and are supplied in a free standing enclosure.
NEMA 12, dual redundant solid state starter
Benshaw MX3 controller
45/60KV BIL
8,000 PIV -UL347 certified and listed at 2.4KV
12,000 PIV - UL347 certified and listed at 4.2KV
200MVA (2300VAC)/ 350MVA (5000VAC) short circuit fault rated
500% - 30 seconds rated
service entrance labeled
Built-In-Self-Test (BIST) for "quick commissioning"
FIber optic firing
Selectable solid state or full voltage operation via selector switch mounted inside the low voltage compartment
400A load break, 5KV rated disconnect switch, with viewing window, grounding assembly and lockable handle mechanism
Load matched Class R fusing with blown fuse indication
Fixed mounted, start duty rated vacuum contractors for isolation and SCR bypass wired for normal bypass operation and full voltage start operation, with (2) N/O and (2) N/C auxilliary contacts
Seperately mounted SPE series overload device
120VAC, 1000VA CPT with primary and secondary fusing
Door-mounted start/stop/rest pushbuttons, LCD keypad and local-off-remote switch
Terminal strip included for remote start/stop control and up-to-speed indication
Modbus communication
Benshaw, Inc.
615 Alpha Dr.
Pittsburgh, PA 15238
(412) 968-0100
---