RX2E and RX3E Series Solid State Starters
Product Announcement from Benshaw, Inc.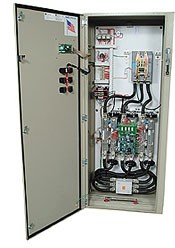 Prepackaged Severe Duty Starters with ATL Bypass
RX2E / RX3E Series
Solid state starters provide reduced voltage start-ups
Benshaw RX2E and RX3E Series solid state starters provide solid state reduced voltage starting for normal operation and full voltage emergency backup starting with complete electronic motor protection at the flip of a switch. This unique dual redundant design is the ideal solution for critical applications where downtime is extremely disruptive to production operations and cannot be tolerated.
MX2 (RX2E Series) and MX3 (RX3E Series) solid state controllers provide precise digital starting and stopping, motor protection, metering, diagnostics and communications . standard. RX2E units are stocked with MX23 controller are available on request.
Key advantages include:
MX2 or MX3 controller
NEMA 12, dual redundant, combination circuit breaker
Shunt trip on main circuit breaker
500% - 30 seconds rated solid state starter, UL certified and listed
1,800 PIV rated SCRs, UL certified and listed
125% continuous duty rated solid state starter, UL certified and listed
Selector switch for selecting solid state or full voltage operation mounted inside enclosure
Full HP rated bypass contactor with a 1.15 service factor, wired for normal bypass operation and full voltage start and run operation, with normally open auxiliary contact
Separately mounted SPE Series overload relay wired for full voltage start and run operation
110 volt control power transformer with primary and secondary fuses
Door-mounted start and stop pushbuttons
Door-mounted keypad
Door-mounted run indicating light
Door-mounted local-off remote switch
Door-mounted overload reset
Terminal strip mounted inside enclosure for remote start/stop connection
Auxiliary relay with two Form C run contacts
RS485 Modbus communications
Analog I/O
---