Product Announcement from Bepex International LLC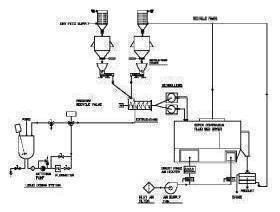 The Extrud-O-Mix® is a unique product line that eliminates typical boundaries between mixing / blending and agglomeration equipment. This efficient low pressure mixing and forming extruder can generate uniform, free flowing, dust free pellets or particles. The Extrud-O-Mix® is primarily designed for combining dry powders with liquid streams to produce a paste or dough suitable for extrusion. However, with efficient continuous mixing, adjustable shear input, and heat transfer available in the housing and the rotor the application list becomes very diverse.
Compacted products, including those extruded in high-pressure systems, generally have poor mechanical dispersion and/or dissolving rates. The Bepex International Extrud-O-Mix® uses the minimum force necessary to obtain a dust free particle with good particle integrity while maintaining excellent dispersibility.
One common application for the Extrud-O-Mix® is back mixing or simply forming wet cake products to improve drying efficiency. A more specialized approach is using the Extrud-O-Mix® as a product conditioner before spheronization and drying. The Extrud-O-Mix® is available in several arrangements and sizes from the lab scale Model EM-2 to high production units with 200 hp drives.
TYPICAL APPLICATIONS OF EXTRUD-O-MIX® EXTRUDING SYSTEM:
Adhesives
Animal feed
Ascorbic acid
Bakery mix
Cookie icing
Detergents
Flavorings
Food dye
Fireplace logs
Herbicides
Insecticides
Mannitol
Natural gums
Pectin
Polyacrylate gel
Pharmaceuticals
PVC additives
Rubber accelerator
Starch
Sugar
Sweeteners
Yeast
Zeoli
Bepex has been leading the development of industrial process systems for more than 100 years.
"Bepex International - your global food and chemical processing equipment and systems provider for thermal processing, polymer processing , drying, agglomeration, size reduction, compaction, briquetting, liquid/solid separation, mixing and blending for the food, chemical and polymer markets."
There is no question about it, there is not a better place to investigate your solids processing, powder processing and polymer powder processing needs than the world-class Bepex International Technical Center. We offer application testing and innovative solutions to tough powder processing and polymer processing problems using state-of-the-art processing equipment and instrumentation, proprietary technologies and powder processing technical expertise.
Application testing involves running a customer's material in a pilot system to demonstrate the operation of the processing equipment and to find the optimal design parameters. Process development projects focus on combining multiple unit testing operations to define a new process either for an existing or a new product. We also use our pilot systems for contract manufacturing especially for short runs that are too small for commercial tolling facilities.
Bepex International has been supplying quality food processing equipment and chemical processing equipment to the food and chemical industries since 1906. Bepex International offers experience with a wide variety of unit process and systems equipment, from particle size enlargement, particle size reduction, and drying to blending and cooling. The categories below provide more information on agglomeration/compaction, thermal processing systems, polymer process sytems, particle size reduction and more.
Bepex International parts are designed, engineered and built to exacting specifications to meet the wide ranging needs of our customer base. Out extensive background in the design, manufacture and operation of equipment in the demanding industrial arena allows us to provide replacement components best suited to your company's individual needs. Contact us today at 612-331-4370 and let us help you run more efficiently
You have successfully added from to your part list.
---