MINIATURE NEEDLE VALVE
Product Announcement from Beswick Engineering Co., Inc.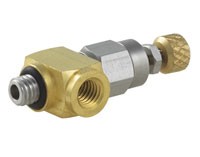 Beswick Engineering introduces additions to its growing line of miniature 10-32 threaded needle valves. Weighing about 10.5 grams in brass, the NVL series valves are an excellent choice for applications where precise flow adjustment is required in a very compact package.
Features & Specifications:
Capable of handling inlet pressures up to 500 psi.
The metal to metal seal provides positive shut-off down to 25 in Hg.
The standard valve has a 0.032" effective orifice when fully open. A high flow version is now also available, with an effective orifice of 0.059" when fully opened.
The needle valve allows precise flow adjustment due to 56 threads per inch adjustment and three degree taper of the needle. A higher resolution needle is also available.
The adjusted flow remains stable even during temperature fluctuations as the needle and valve seat are both manufactured from stainless steel.
The valve body (elbow or tee) swivels 360 degrees to facilitate installation and orientation.
The needle valve body is available with built-in-barbs which saves space and reduces cost of connections and assembly time.
O-ring seals throughout the valve insure a leak proof installation.
A cartridge body is also available for incorporation into manifold assemblies. Cartridge valves in concert with a manifold offer a smaller envelope, reduced assembly time and fewer parts.
New motorized version allows for greater flexibility and use in systems where computer control is essential.

Other Options:
Wide variety of outlet port configurations are available, including:

Barbs for 1/16", 5/64", 3/32", 1/8", and .170"-3/16" ID soft tubing
10-32 threads (both internal and external)
Compression fittings for 1/8" OD stiff plastic or metal tubing

Adjustment options include screwdriver, knurled knob, hexagonal lock nut, or knurled lock nut.
Body material in brass, ENP brass, 303 stainless steel, or 316 stainless steel.
O-ring Seals in Buna-N, EPDM, Viton® or Silicone.
Applications Include:
Medical and dental equipment,
Instrumentation,
Ink jet printing,
Laboratory equipment,
Hydrogen fuel cells,
Semiconductor manufacturing equipment,
Aerospace,
Industrial robots,
And many more…
Contact:
Have questions about this product? Feel free to contact us and ask to speak with one of our degreed mechanical engineers in that applications engineering department.
Beswick Engineering Co., Inc.
284 Ocean Rd., Greenland, NH 03840
Tel: 1-603-433-1188
Fax: 1-603-433-3313
Email: besales@beswick.com
Web: www.beswick.com
Beswick Engineering specializes in high-performance miniature fluid power components.
Download the expanded 2009-2010 catalog here: http://www.beswick.com/resources/catalogue.php
---