Miniature Stainless Steel Push to Connect Fittings
Product Announcement from Beswick Engineering Co., Inc.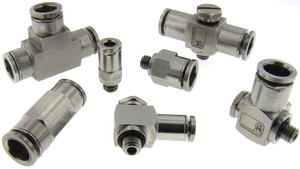 Beswick expands upon its growing line of miniature stainless steel Push-To-Connects with fittings for 1/4" and now 1/8" (NEW) OD tubing. These fittings set an industry standard for miniaturization and high performance.
All configurations feature Beswick's unique captured O-ring seal design for leak-tight sealing at both the threaded end of the fitting and at the tubing-to-fitting interface.
All components, including the release collar, are fabricated from stainless steel, permitting use in corrosive or high temperature environments, as well as applications requiring clean components.
Beswick Push-To-Connect style fittings permit easy tube connecting and disconnecting, and are an excellent choice for use with many types of plastic or metal tubing including, Polyurethane, Polyethylene, Nylon, Teflon, Copper, and Stainless Steel.*
This design offers convenience, leak-free connections, and corrosion resistance in a space saving package.
*Use of the PTC with stainless steel tubing requires a groove in the OD of the tube to allow the gripping ring to secure the tube.
Current Configurations Include:
10-32 threaded straight, adjustable position elbow, and adjustable position tee models, as well as "tube to tube" straight, elbow, and tee union configurations for 1/4 inch OD and 1/8 inch OD (NEW) tubing are now available.
Additional versions for use with 4mm (5/32"), and 6mm OD tubing will be available soon.
Other Options:
Body Material: 303 or 316 Stainless Steel
Seal Material: Buna-N, EPDM, Viton®, or Silicone
Applications include:
· medical and dental equipment,
· instruments,
· laboratory equipment,
· semiconductor manufacturing equipment,
· electronics cooling,
· aerospace equipment,
· packaging machinery,
· industrial robots,
· And many more…
Beswick Engineering specializes in high-performance miniature fluid power components. Download the expanded 2009-2010 catalog here: http://www.beswick.com/resources/catalogue.php
---