Ultra Miniature Two Stage Pressure Regulator
Product Announcement from Beswick Engineering Co., Inc.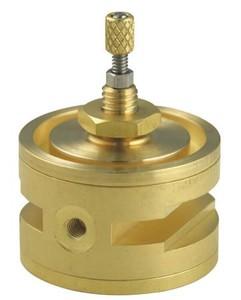 Description: The PRD2 is a miniature, dual stage, diaphragm style, pressure regulator.
Max Inlet Pressure Rating:This is a two stage regulator, and is ideal for applications with fluctuating or decaying inlet pressures, up to a maximum of 500 psig.
Outlet Pressure Range: Maximum outlet range 0-20 psig. The large valve to sensing area ratio and frictionless design of Beswick's diaphragm style regulators make them especially well suited for low pressure regulation, such as ½ psi. The two stage design allows the regulator to maintain a consistent outlet pressure despite wide swings in the inlet/source pressure.
Approximate Weight: 50g in brass and stainless steel (303 & 316), 23g in aluminum. Weight will vary slightly, depending on configuration.
Porting: M3x0.5 internal threaded inlet and outlet ports.
This is a Non-Relieving regulator.
---