Pallet Handling
Product Announcement from Bishamon Industries Corporation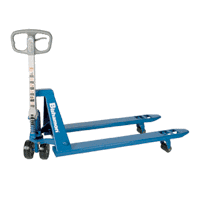 BS Series Blue Label

Bishamon BS series hand pallet trucks are easy to use and exceptionally durable. They are provided in capacities of 2,500 to 6,500 lbs, fork widths of 20.5 or 27.0 in and fork lengths of 32 to 48 in
BS Series Pallet Trucks are found in warehouses, factories, stockrooms, super markets, workshops, cold-rooms and freezers. BS Pallet Trucks may also be used on loading docks and inside trucks.
---