Product Announcement from Bishop-Wisecarver Corporation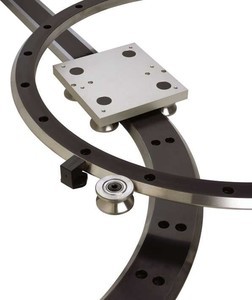 Heavy Duty Ring Slide & Track System (HDRT) from Bishop-Wisecarver.
The HDRT track system utilizes one size of double edge ring segment linked to HepcoMotion's heavy duty linear slides, and are supplied with back plates and joint blocks according to design. One piece slides of up to 4m can be butted together to create unlimited lengths.
Customers requiring a ring and track system strong enough to carry substantial loads led to the development of the HDRT Heavy Duty Ring Slide and Track System from Bishop-Wisecarver. HDRT combines the flexibility and function of the HepcoMotion PRT ring track system with the size and strength of the HDS slide system to support loads up to 40kN (8,992 lbs).
Internal and external V rings are compatible with three sizes of bearings and two lubricators for increased load and life, and are available in seven sizes, and two precision grades as well as stainless steel. Gear cut rings and pinions are also available. Learn More...
Additional Links:
Bishop-Wisecarver's Extensive Line of Products Include:
Why DualVee Technology?
Bishop-Wisecarver is recognized as the market leader for guide wheel technology. In 1967, Bud Wisecarver patented the DualVee Guide Wheel and started designing product based upon DualVee Motion Technology® (DMT). Three main components define DMT; the DualVee Guide Wheel, mating Vee profile track with patented mounting shoulder, and support bushings. DualVee Motion Technology is one of the most popular guided motion products due to its self cleaning action and self aligning track (mounting shoulder), resulting in an overall lower installation cost.
Learn More about DualVee Technology:
You have successfully added from to your part list.
---