Product Announcement from Bishop-Wisecarver Corporation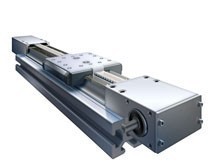 The LoPro® linear actuator from Bishop-Wisecarver Corporation has the lowest profile in its class - accomplished by mounting two lengths of hardened steel track to a low profile milled aluminum track plate. LoPro is available in four sizes and in belt, lead screw, ball screw and chain driven configurations. Built on the company's signature DualVee Motion Technology®, LoPro is a tough, cost effective, low friction system, capable of withstanding a wide range of operating environments. Track is easily joined, making long length systems possible. A wide range of custom options and accessories make LoPro a versatile, complete integrated package. Click here for LoPro Specifications...
Quick Links:
Click here for Application Stories
Four sizes to accomodate axial loads from 222 lbs to 3,526 lbs (988N to 15,684N)
Speeds up to 5.5 m/s
Acceleration up to 5 g's
Corrosion resistant versions availabe
Low noise, low vibration
Long lengths
New motor mounts to fit ANY manufacturer's motor or gearbox
Bishop-Wisecarver's Extensive Line of Products Include:
Why DualVee Technology?
Bishop-Wisecarver is recognized as the market leader for guide wheel technology. In 1967, Bud Wisecarver patented the DualVee Guide Wheel and started designing product based upon DualVee Motion Technology® (DMT). Three main components define DMT; the DualVee Guide Wheel, mating Vee profile track with patented mounting shoulder, and support bushings. DualVee Motion Technology is one of the most popular guided motion products due to its self cleaning action and self aligning track (mounting shoulder), resulting in an overall lower installation cost.
Learn More about DualVee Technology:
You have successfully added from to your part list.
---