Product Announcement from Black Box Network Services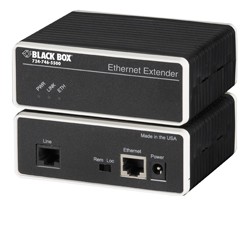 Product Highlights
Use a single voice-grade twisted-pair cable to extend your network at greater distances without forgoing speed or having to use CAT5e or fiber cabling.
Distances up to 6000 feet (1828.8 m).
Ideal for extending 10-/100-Mbps links to remote buildings, those beyond the 328-foot (100-m) limit of Ethernet.
Features
Offers data rates up to 50 Mbps in each direction for an aggregated full-duplex speed of 100 Mbps.
Switch-selectable line rates—choose the optimal speed for a particular application.
Asymmetric or symmetric operation.
Great for bandwidth-intensive applications, with performance approximating that of fiber.
Interconnect remote devices or networks to a central LAN for videoconferencing, VoIP calling, Ethernet bridging, or provisioning broadband triple-play (Internet, TV, and telephone) services.
Simple to install, and there's no configuration or complex cabling to deal with.
Autodetects 10-/100-Mbps connections, autonegotiating full- or half-duplex.
Auto MDI-X detects the link's pinning, so you can use straight or cross-pinned cables.
Bridges LANs transparently, passing higher layer protocols. Also supports 802.1Q VLAN tagged and untagged traffic.
Configure each extender in the kit as a local or remote unit with a slide of a switch.
Specifications
Duplexing Method — Frequency Division (FDD)
Line Rates, Asymmetrical — 6000 ft. (1828.8 m): 1 Mbps upstream, 4 Mbps downstream;
4000 ft. (1219.2 m): 1 Mbps upstream, 16 Mbps downstream;
2000 ft. (609.6 m): 2 Mbps upstream, 50 Mbps downstream
Line Rates, Symmetrical — 4000 ft. (1219.2 m): 10 Mbps upstream and downstream;
2000 ft. (609.6 m): 25 Mbps upstream and downstream;
800 ft. (243.8 m): 50 Mbps upstream and downstream
Modulation — Quadrature Amplitude (QAM) 4-band
Operation — Half- or full-duplex
CE Approval — Yes
Connectors — (1) RJ-45 (link); (1) shielded RJ-45 (LAN)
Indicators — (3) front-panel LEDs: Power, Link, Ethernet
Power — 100–240 VAC, 50–60 Hz, autosensing, external
Size — Each extender unit: 1.5"H x 4.1"W x 3.75"D (3.8 x 10.4 x 9.5 cm)
Weight — Each extender unit: 1.4 lb. (0.2 kg)
Buying Tips
NOTE: Line rates are for 24 AWG, 0.5-mm cable.
Questions? Contact our FREE Tech Support.
You have successfully added from to your part list.
---