Wireless Presentation System
Product Announcement from Black Box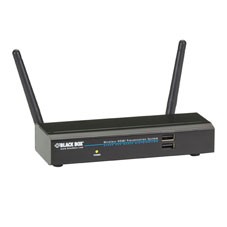 Receives computer screen video from Wi-Fi® devices, including 802.11n devices, for big screen projection.
Enables multiple laptop, tablet, and smartphone users to wirelessly project video from where they sit.
Ideal for sharing PowerPoint® slideshows and presentations in large meeting rooms.
Includes Plug & Show USB token for streamlined setup for meeting participants.
Simple, Web-based conference control interface for managing user access.
Session login and gatekeeper functions to keep meetings secure.
Boasts IEEE standard 64-/128-bit WEP/WPA/WPA2-PSK Wi-Fi protection.
4-to-1 split-screen function for enhanced meeting collaboration and sharing.
Supports 1-to-4, too. Use four receiver units to show content on four screens.
Media playback for playing video through a projector at smooth 30-fps speed.
Plays back MPEG1/MPEG2/MPEG4 (Xvid), DivX® 3/4/5, and H.264 formats.
Magnifier feature enlarges a small video region to play back with full screen.
Transmits audio, too. Send audio to a display for full multimedia sharing.
Remote desktop function provides greater mobility when presenting.
Wi-Fi AP Client Mode for WLAN communications. Can also be linked to a wired LAN.
When used with a DSL/cable modem, enables Web browsing while projecting video.

The Black Box® Wireless Video Presentation System offers the ultimate in computer presentation sharing. If you have a meeting room with a VGA or HDMI projector and you want a roomful of people to have a simple way to share their screens with others, then this affordable, plug-and-play receiver is your solution.
This latest version of our popular Wi-Fi receiver not only supports presentation sharing through 4-to-1 split-screen and 1-to-4 projection, it also provides 802.11n Wi-Fi support—delivering up to five times the throughput and greater range of earlier Wi-Fi technology. The 802.11b/g/n compatibility means it can communicate with the latest mobile devices, too.

How it works.
The Wireless Video Presentation System plugs into a projector or any display device with a VGA or HDMI port. Wallmountable, it functions as both a wireless receiver and an 802.11b/g/n access point, enabling as many as 254 laptop or other Wi-Fi users to log in and display their computer screen video from hundreds of feet away*. The system's application software captures the images and sends them through 2.4/5-GHz radio waves to the receiver.
In standard Presentation Mode, meeting participants can project their computer screens. They can launch PowerPoint® Viewer or another application or open any file (such as a Word document or JPG image), and it will be projected wirelessly to the Wireless VPS III for overhead display.
It also has a Video Mode, through which users can choose a video or audio file from their computers for playing for an entire room**.

Plug and show.
With the accompanying Plug & Show USB token, wireless presentation becomes easy for all your meeting participants. Just link your PC or laptop to the Wireless VPS through a WLAN or an Ethernet connection, plug the token into a USB port, and in seconds, your screen will be wirelessly projected to the projector and, in turn, onto an overhead screen seen by the entire room.

4-to-1 split-screen projection.
With this 4-to-1 split-screen feature, the Wireless VPS displays up to four user screens through a projector at the same time. The individual screens are shown in quadrants, which makes it great for training applications where multiple users can compare work—just what you need to enhance meeting productivity. In addition, the system supports 1-to-4 screen projection, so an individual user can project his or her screen on four separate screens at the same time (four Wireless VPS units are required).

Mobile device wireless projection.
You don't need a laptop or desktop computer to link to the system. With a mobile app, you can also use your tablet or smartphone . You can project photos stored on your phone to the big screen, run a photo slideshow, show videos in .mpeg or .wmv9 format, or play MP3 music files. Images and videos will be scaled for playing large on the big screen automatically.

You control conference participants.
The Web-based administrative tool makes it simple for an administrator to control the entire presentation. You control the order of projection from connected users' PCs or devices, as well as assign quadrants to each presenter during a 4-to-1 split-screen session and, in 1-to-4 setups, which users get to have their PC video displayed on which screen.

Works as a wireless access point, too.
The Wireless VPS can also be used as a wireless access point, so you and a roomful of users can access content on the Internet or a wireless LAN. Wi-Fi AP Client Mode also makes it easy to communicate with other access points in your wireless enterprise. Or, through its RJ-45 port, you can link the receiver to a wired LAN.

Remote desktop function.
Have greater mobility when presenting at a podium or anywhere in a meeting room. The remote desktop function enables you to control a presentation from a wireless USB mouse/keyboard or to toggle between slides in a presentation using a USB wireless clicker. Just plug the receiver for your mouse/keyboard or clicker into the USB HID port on the front of the Wireless VPS unit.

Also, see our Micro Wireless VGA Presentation Tool.
This slim, portable device simplifies presentation sharing for single users, particularly when they're on the road or they have to move frequently from room to room. It's a more compact version of the Wireless VPS. Like the Wireless VPS, the Micro Wireless VGA Presentation Tool plugs into any display device with a VGA port for wireless computer presentation sharing. Also like the Wireless VPS, it enables a laptop users to log in and display their computer screen video from hundreds of feet away.

* Under optimum conditions, depending on the environment.
** Quality of video playback may vary. Some buffering may occur. The Wireless VPS III is designed primarily to be a wireless presentation sharing device, not a wireless video streaming device.


What's included:
Wireless 802.11 receiver
Power supply
Plug & Show USB token
(2) antennas
(2) screws for mounting receiver to bracket
(4) screws for mounting bracket to wall
User's manual on flash drive
You have successfully added from to your part list.
---