Video Extender: HDMI and IR
Product Announcement from Black Box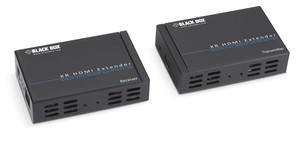 Enables flexible screen location without compromising video quality.
HDBaseT® based for greater video capacity and 3D support.
Provides 10.2 Gbps of HDMI video bandwidth on all channels.
Supports 1080p video at 60-Hz and 48-bit pixel rates.
HDCP compliant and Blu-ray ready.
No software or driver installation required.
Wallmountable for space-saving installation.
Includes transmitter, receiver, IR emitter, and IR receiver.
Put a digital sign or display where you want it and control AV source equipment at the screen with the Black Box® XR HDMI and IR Extender (VX-HDMI-TP-100M).
Extending over a single CAT5e/6 cable, the transmitter-receiver combo makes it easy to send digital 1080p-quality video and audio plus IR remote control signals up to 328 feet (100 m)*.

Reduced cabling requirements.
The XR HDMI and IR Extender transmits uncompressed full HD digital video and audio plus CEC signals—all over a single copper cable.
By using just one CATx run to reach a remote screen, you can get away with using a single, existing Ethernet cabling drop for multimedia distribution. Reach digital signage or monitors without adding—and having to maintain—a jumble of cables and wiring behind the screen.
You also get simplified control. The extender supports CEC passthrough and source device control via a built-in IR extender function (an IR emitter and IR receiver are included). IR commands received in the vicinity of the display extend back to the source device. This way, a receptionist stationed near a screen, for instance, can use an HDTV's remote controller to change settings on a source device in another room.

Designed for emerging HDMI technology.
The extender is ideal for applications requiring greater distance for high-quality video resolutions on HDTV displays or projectors. It supports 340 MHz/3.4 Gbps of HDMI video bandwidth per channel and 10.2 Gbps on all channels.
What's more, the XR HDMI and IR Extender uses HDBaseT based technology, so it has the capacity to extend both HDMI and control signals. It also supports the resolutions of current and emerging video display devices, such as the latest 3D screens and future HD formats.
It works with the latest source devices, too. Use it to extend HDMI from a newer consumer electronics device that provides uncompressed-only output. Because it supports HDCP communications, you can also extend content from a Blu-ray player or other protected-content source.
For high-quality sound, the XR HDMI and IR Extender transmits uncompressed LPCM signals as well as compressed audio, such as DTS-HD and Dolby® TrueHD audio, as part of the HDMI signal.


What's included:
Transmitter
Receiver
(2) power supplies
IR emitter
IR receiver
(4) wallmount brackets with (8) screws
User manual
You have successfully added from to your part list.
---