Mobile LPG Evacuation Unit From Blackmer®
Product Announcement from Blackmer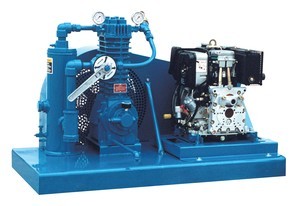 Blackmer's Mobile LPG Evacuation Units can be built to meet any customer's specific LP Gas unloading and tank purging requirements. The units feature Blackmer LB Series reciprocating gas compressors - model numbers LB161, LB361 or LB601, specifically. Whether evacuating storage tanks and transports, or transferring liquid, Blackmer's oil-free gas compressors deliver high efficiency in handling propane, butane, anhydrous ammonia and other liquefied gases.
In addition to a trailer-mounted unit, Blackmer can provide a skid-mounted version designed for easy transportation in a truck bed or via a small trailer to the destination. Blackmer's portable liquid transfer and vapor recovery units are constructed with a variety of engine drive styles and options. The unit is designed with the traditional "LU" mounting style, which includes the compressor, liquid trap, strainer, four-way valve and related piping.
Blackmer LB Series compressors are available with transfer rates of 35 to 700 U.S. gpm (132-2,630 lpm) and designed to handle transfer and recovery of liquefied gasses like propane, butane, and anhydrous ammonia. All models feature ductile iron pressure parts for greater resistance to both thermal and mechanical shock.
Mobility, coupled with Blackmer's long history and proven reliability for liquid transfer and vapor recovery, makes this unit ideal for:
Remote stationary tank gas evacuation
Routine tank maintenance
Internal and safety valve replacement
Assisting with other piping or equipment upgrades
Truck/transport maintenance and hydro testing
Emergency transfers from mobile tanks or tank cars due to accidents or derailments
Any place where electric power is limited or not available
Whether evacuating bulk tanks and transports for repairs or system upgrades, Blackmer's LPG transfer solutions can be counted on to deliver.
For more information, click the following:
---