SNP Series Pumps For Soap and Detergents
Product Announcement from Blackmer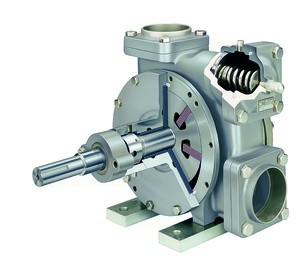 Blackmer® SNP Series Sliding Vane pumps are ideal for a wide range of product unloading and transfer operations in the ever-evolving global soap and detergent industry. The increased use of environmentally friendly cleaning products, along with the added attention being paid to the environmental "sustainability" of pumping technologies, require product-transfer systems that are versatile, safe, easy to use and cost-effective.
The SNP Series pumps meet these operational requirements by offering a wide variety of features that enhance product transfer within soap and detergents production, including:
Superior top and bottom unloading-SNP pumps have exceptional vacuum-lift, line-stripping and tank-clearing capabilities
Ability to handle a wide range of viscosities-Can handle product thicknesses in excess of 4,250 cSt, while also being equipped with a removable drain valve plug for complete self-draining
Unmatched thin-liquid pumping-The pump's vane technology ensures superior sealing even after significant in-service time which eliminates the efficiency-robbing "slip" that can affect the performance and service life of gear and lobe pumps
Sustained performance-The self-adjusting, replaceable vanes of the SNP pumps guarantee optimum performance levels over the life of the pump
All of these features make Blackmer SNP pumps ideal for use throughout the soap and detergents production chain, from raw material unloading and transfer to packaging of liquid detergents and soaps. SNP pumps are available in five port sizes from 1-1/4" to 3" (32 to 76 mm) with capacities from 2 to 265 gpm (8 to 1,003 lpm). SNP pumps can handle fluid viscosities in excess of 20,000 ssu (4,250 cSt) at working pressures to 200 psi (13.8 bar) and temperatures to 350°F (177°C).
SNP Series pumps feature Blackmer's revolutionary sliding-vane-technology principles, which guarantee consistent volumetric-output performance, even after significant in-service time. This eliminates the efficiency-robbing "slip" that shortens lobe and gear pump life, and improves production yields by stripping lines of residual product. Blackmer's sliding vane technology is the primary driver of the Company's Smart Energy® program, aimed at educating operators about the benefits inherent in vane pumps. For more details Blackmer's Smart Energy® program:
For more information:
---