Delta Style Case Packer with Automatic Changeover
Product Announcement from BluePrint Automation, Inc.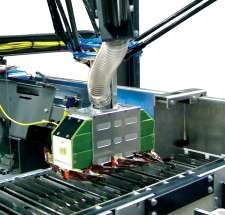 BluePrint Automation has engineered a case packer with auto-changeover using our BPA three and four-axis Delta robot.
Ideal for packing fragile products such as bags of chips, snacks and other flexible packages this system is capable of packing complex pack patterns and/or high speed picking! Our new design simplifies the system mechanically, providing plants with a much smaller footprint; only 4′ wide x 8′ high, and includes a virtually hands-free changeover between different product and case sizes!
Product is collated into a group using our servo driven automatic variable pitch conveyor, eliminating the need for multiple sets of collation belts. The product is then picked by our specially designed end-effector using our three and four axis robot. The robot ensures smooth placement of the product into an intermediary auto-adjustable cassette. Cases are tipped towards the cassette and the entire stack is side-loaded into the secondary container for a vertical (stand up) presentation.
Ready to run a different product or case size? Simply select your product code from the operator's panel and the collation flights, end-effector and cassette automatically change over to your next bag and/or case size. It's that simple!
Benefits of this highly innovative system include:
Eliminates "fine-tuning" that typically takes place after a changeover providing customers with a solution that bounces back to maximum efficiency after the change-over process is complete.
Eliminates costly change parts (i.e. multiple collation belts, end-effectors and cassettes)
Small footprint to accommodate tight bagger center-lines
Maximizes case utilization
Display case packing of chips, pretzels, tortillas, other snacks and flexible packages
Packs small bags at 130+ BPM
Standard bag seal checking with optional integrated reusable case erector
You have successfully added from to your part list.
---