Product Announcement from Boker's, Inc.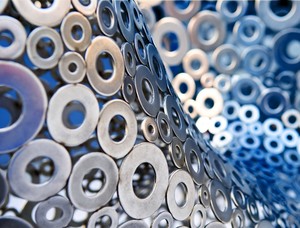 Boker's, Inc announces their comprehensive washer offering includes standard washers in multiple sizes and materials, providing ideal solutions for versatile fastener industry applications. With the company's extensive manufacturing capabilities and increased washer capacity,
Boker's offers standard flat washers in short, medium and long runs, with outside diameters ranging from 0.081 inches to 5.000 inches, plus numerous inside diameter and thickness options.
Offering custom modifications to meet individual application needs, Boker's broad washer collection includes a wide range of options, such as standard wrought washers, U.S.S. flat washers, S.A.E. flat washers, fender washers, machine screw washers, A.N.S.I. metric plain washers and A.N.S.I. B18.22.1 American standard type A and type B washers. Boker's standard washers are flat, tumbled, deburred and can be heat-treated or plated for your specifications.
Standard washers are available in over 2,000 commonly specified and difficult-to-find materials with numerous approved vendors for heat treating and plating. Metallic material options include, but not limited to, low-carbon sheet steel, various spring steels, stainless steel, aluminum, brass, copper and nickel silver. Non-metallic material options include ABS, acetal, polyester, nylon, nylon MD, polycarbonate, fiber, polyethylene and various NEMA grade laminates. With over 25,000 stock tools, fast turnarounds and infinite washer possibilities, Boker's manufactures cost-effective, customized solutions for virtually any application.
Boker's, Inc. is a Woman Owned, ISO 9001:2008 registered manufacturer of precision stampings, washers and spacers. To request a Washer Catalog, contact: Boker's, Inc., 3104 Snelling Avenue, Minneapolis, MN 55406-1937; call (TOLL-FREE) 800-927-4377 or visit www.bokers.com
You have successfully added from to your part list.
---