Subsea Pipeline Connector for Oil & Gas Industry
Product Announcement from Borrelly Spring Washers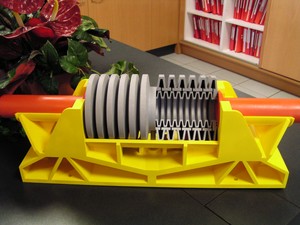 Borrelly was introducing his patent (in collaboration with Joseph Toupin) of a Subsea Pipeline Connector using Seawater natural and free energy, project is working on since 2007.
This double skin elastic bellow is compressed when diving by natural hydrostatic pressure. When it is positioned vis-à-vis two pipes to be connected, an automatic introduction of water inside the elastic bellows allows the balance of pressures, and therefore the release of stored energy.
This energy is the force to seal the two pipes.
Subsea Pipeline Connector using seawater and natural energy.
Natural Hydrostatic Energy
Ocean Surface : 361 Millions Km2
Ocean Depth : 3800 m average
High Pressure 3800 m = 380 bar
Advantages:
No more hydraulic system
Automatic clamping
Semi rigid connection (option)
Subsea pipeline connector COST
Setting up COST
Applications:
Liquid hydrocarbon/ Gas hydrocarbon
Hydrothermal sources
During the Geneva Invention 2012 show, Dominique Borrelly (in collaboration with Joseph Toupin) did suceed in having two main rewards:
---