Product Announcement from Brainboxes Limited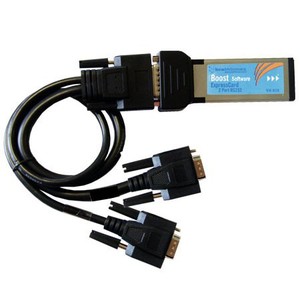 VX-012
Full specification
Port
Ports 2
Protocol RS232
Connector DB9 Connector - 9 Pin Male
Tx FIFO Size 128
Rx FIFO Size 256
Operating Distance EIA - RS232 Standard
Cable 2 Port Cable: DB9 connector (9 Pin Male)
Port Settings
Max Baud Rate 921,600
Data Bits 7 or 8
Parity Odd, Even, None, Mark or Space
Stop Bits 1 or 2
Flow Control RTS/CTS, DSR/DTR, XON/XOFF
Tx/Rx Modes Point to Point
General
Ruggedised No
PCB Layers 4
ExpressCard Width 34mm (fits both 34mm and 54mm ExpressCard slots)
Power Consumption 90mA @ 3.3V
Product Weight 0.038 kg, 0.08 pounds
Product Dimensions 110(l) x 46(w) x 20(h) mm, 4.33(l) x 1.81(w) x 0.79(h) inches
Packaged Weight 0.241 kg, 0.53 pounds
Packaged Dimensions 150(l) x 40(w) x 145(h) mm, 5.91(l) x 1.57(w) x 5.71(h) inches
Interface
USB 2.0 480 Mb/s USB 2.0 data rates.

Operating systems
Windows XP 32 bit & 64 bit Editions, Linux, Windows Vista 32 bit & 64 bit Editions, Microsoft Windows 7 32 bit & 64 bit Editions, Mac OS X
Our technical support team is on hand from 9am - 5pm (BST) to help with any technical issues you maybe having. They can help over the phone on +44 (0)151 220 2500 or by Remote Desktop Connection to resolve your issue quickly.
Brainboxes offer Remote Desktop support through Windows Live Messenger and Mikogo (Recommended). If you would like support through Remote Desktop please email Support for setup information.
Please fill in our Support Form and specify, in the "Description of Issue" box, that you require Remote Desktop Support from our in-house team.
Established in 1984, Brainboxes is one of the leading Serial communication device developers and manufacturers in the World. Headquartered in Liverpool, UK, it has a team of highly qualified software and hardware designers, matched by a world-class in-house, volume manufacturing facility and a global distribution chain. Substantial investments in R&D and manufacturing have gained us a reputation for products that are easy to use, highly configurable and extremely reliable. Our in-house manufacturing facility gives us an unparalleled level of flexibility and control to meet even the tightest deadlines.
Brainboxes mission is to provide innovative data communication products to ensure customers can Connect, Configure and Control their serial devices. Using advanced design and manufacturing techniques we won the Manufacturing Institutes "Manufacturer of the Year Award 2007" and prestigious European Electronics Industry Awards, "Manufacturer of the Year 2005". Exceptional quality and reliability from Lean Six Sigma manufacturing processes have enabled Brainboxes to offer customers a lifetime warranty and free technical support for all serial products.
You have successfully added from to your part list.
---