Product Announcement from Brainboxes Limited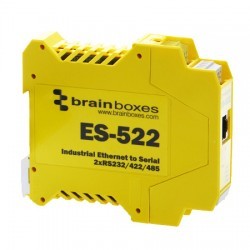 Ethernet to Serial Device with 2 Port software selectable as RS232, RS422/485 Full duplex or RS422 Half duplex. ES-522 has removable Screw Terminals Blocks for easy wiring, a slim 'end on' case and integral DIN rail mount. Our Industrial Ethernet to Serial has an operating temperature range of -30 to +80 degrees Celsius and with +5VDC to +30VDC Dual input reverse polarity protected power supply making it perfect for industrial applications. Data transfer rates up to 1,000,000 baud, coupled with 1Mbit/s line drivers deliver uncompromising performance. Our Industrial ES range provides simple instant networked serial ports in demanding environments. Serial Port Tunneling allows serial cable replacement over any distance, no software required. Suitable to be wired into existing power and network infrastructure or can be used with our PW-600 power supply.
Established in 1984, Brainboxes is one of the leading Serial communication device developers and manufacturers in the World. Headquartered in Liverpool, UK, it has a team of highly qualified software and hardware designers, matched by a world-class in-house, volume manufacturing facility and a global distribution chain. Substantial investments in R&D and manufacturing have gained us a reputation for products that are easy to use, highly configurable and extremely reliable. Our in-house manufacturing facility gives us an unparalleled level of flexibility and control to meet even the tightest deadlines.
Brainboxes mission is to provide innovative data communication products to ensure customers can Connect, Configure and Control their serial devices. Using advanced design and manufacturing techniques we won the Manufacturing Institutes "Manufacturer of the Year Award 2007" and prestigious European Electronics Industry Awards, "Manufacturer of the Year 2005". Exceptional quality and reliability from Lean Six Sigma manufacturing processes have enabled Brainboxes to offer customers a lifetime warranty and free technical support for all serial products.
You have successfully added from to your part list.
---