Deep-Bed Vapor Phase Carbon Adsorption Systems
Product Announcement from Branch Environmental Corp.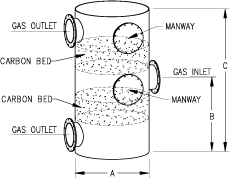 Vapor Phase Carbon Adsorption Systems are designed to remove certain gaseous contaminants, including Dioxins/ Furans, Hydrogen Sulphide, Hydrogen Chloride, Ammonia and Mercaptans.
Branch Environmental Corp. offers a Deep-Bed design that may be used as part of a new pollution control train or system, or as a retro-fit unit to be added to an existing system.
The construction of the shell and internal supports of the Deep-Bed Vapor Phase Carbon Adsorption System are fabricated of corrosion resistant fiberglass. Access man-ways are provided for each bed of activated carbon, for routine inspection and replacement. Lifting lugs and hold-down lugs are provided. The process air stream, at a temperature of approximately 140? F (60? C), enters the Deep-Bed Vapor Phase Carbon Adsorption System between two horizontal beds of selected activated carbon. The air stream separates, flowing through the upper and lower beds of activated carbon, where the contaminants are removed, prior to the air being discharged from the system. Numerous types of activated carbon are available, including pelletized, granular, powdered, impregnated, virgin and reactivated, made out of several different materials such as coal, coconut shell and wood. Experience determines the optimum selection of activated carbon for each specific application.
Benefits of the Deep-Bed design include:
Can be added to an existing pollution control system as a final stage for removal of certain contaminants. Made of corrosion resistant fiberglass material for long service. Compact modular design for easy and economical installation. Various types of activated carbon available for different applications.
Branch Environmental supplies custom built pollution control equipment for industry. Our air pollution control equipment can clean up acids, organics, aerosols and mist to meet any emission control standards. Our equipment is also used for water treatment, including removal of volatile organics, ammonia and other gases.
Branch Environmental supplies custom built scrubbers and systems for air pollution control. From small units to large custom designed systems, you receive competitive pricing with the highest reliability and assurance that the equipment will work right the first time.
Branch can provide standard design or custom built oxidation systems for thermal destruction of volatile organic compounds (VOC) and other gases that can be eliminated by thermal destruction.
Branch provides custom built Air Stripper units for removal of voc, ammonia, hydrogen sulfide and other volatile components from water. With our experience in complete systems, we can provide you with all of the related components and controls for a trouble free installation.
Branch designs and builds custom fabricated mass transfer equipment for gas absorption and removal.
Branch Environmental can provide several different technologies for removing oxides of nitrogen (NOx) from air or flue gas. The best treatment method for your application will depend on the conditions of operation.
When extremely small particles are present, the energy required for scrubbing will increase tremendously. If the particles are oil, acid mist, or a soluble salt, a Fiberbed may be the best answer
We would appreciate the opportunity to help you in any way. If you have a question or comment, please email us at information@branchenv.com
---