Product Announcement from Branch Environmental Corp.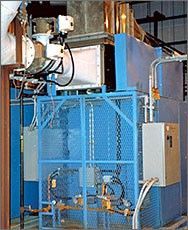 We provide the technology for removing oxides of nitrogen (NOx) from air or flue gas. Selective Catalytic Reduction (SCR) systems use our catalytic design to react ammonia injected into the air stream with the NOx present. This approach requires an operating temperature of 320-700º F (160-320º C) depending on the catalyst used.
For flue gas that is already in this range, the SCR system will be a good choice. Systems use about .4 wt. NH3/wt. NOx .
SCR technology is often used where high temperatures, low concentrations or high percentage of NO are encountered.
Because there are so many variables, please contact us for specific information.
Branch Environmental supplies custom built pollution control equipment for industry. Our air pollution control equipment can clean up acids, organics, aerosols and mist to meet any emission control standards. Our equipment is also used for water treatment, including removal of volatile organics, ammonia and other gases.
Wet Scrubbers have been used on a variety of applications. Their ability to remove both solids and gases makes them suited to handle difficult applications.
The most common types of scrubbers we supply include:
Where insoluble organic vapors are present, Scrubbers will not work. Such vapors can be removed by thermal destruction. The result is usually harmless gases including water and carbon dioxide.
The most common types of systems we supply include:
For ground water or wastewater cleanup. Trace organics can be stripped out of the water by air moving countercurrent to the water.
Air Strippers come in several configurations. They can be provided as part of a package with vapor phase control, if necessary.
The most common types of Air Strippers we supply include:
The removal of oxides of nitrogen (NO/NO2) is a unique problem because of the difficulty.
Our selective catalytic reduction system uses ammonia to react with the NOx resulting in nitrogen and water.
Alternative systems using wet scrubbing are also available
Where difficult to remove aerosols are present in the air, a Fiberbed mist eliminator maybe the answer.
Fiberbeds are able to remove oil mist and smoke sized droplets from air.
We design and build custom fabricated mass transfer equipment for gas absorption and removal.
The most common type of aeration devices we provide are:
We would appreciate the opportunity to help you in any way.
If you have a question or comment, please email us at information@branchenv.com
You have successfully added from to your part list.
---