Polyethylene Sheet Film
Product Announcement from Brentwood Plastics, Inc.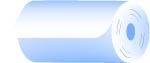 Brentwood Plastics manufactures monolayer polyethylene "poly" or "polythene" film sheeting. Most of the thin, flexible film is further converted by printing, laminating and/or pouching.
Polyethylene film has many uses such as heat shrink bundle wrap, bag making, lamination heat seal layer for form/fill/seal FFS, iqf frozen foods, graphics packaging.
Properties are custom tailored to the requirements of your application. These might include heat resistance, cosmetics, slip factor, pigmentation, corona treating for printing and adhesives, frozen temperature stability and fast hot tack.
Heat shrink film for bundle tray wrap and collation packaging can be customized for optimum machine direction and transverse direction shrinkage. Perforation and venting is available to eliminate heat and condensation by maximizing air flow.
---