Product Announcement from Brentwood Plastics, Inc.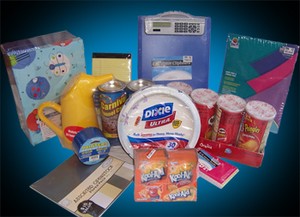 "Polyolefin" literally means everyday polymers such as LDPE, PP and PVC. "Polyolefin" sounds cool and erudite to marketers of top shelf shrink films made from these polymers.
They also tout the clarity, balanced shrink and shrink force as critical to optimum point-of-sale presentation.
Polyolefin shrink films are sold by the inch of width with differing roll lengths for each gauge because it doesnt sound as expensive.
Brentwood Plastics new Clear Shrink© PE offers a compromise between bundling shrink wrap and elegant olefin shrink films.
Clear Shrink© isn't exactly like other polyolefins. It has slightly more shrink in the machine direction and shrinks after exiting the heat shrink tunnel. The gloss and clarity are not as dramatic. What matters is what is known as "contact clarity."
You can have any gauge you want so long as you want 97 gauge.
You can have larger rolls than the standard 60 gauge in 4,375 feet, 75 gauge in 3,500 feet and 100 gauge in 2,625 feet. Longer rolls translates to less downtime changing rolls and bulk packaging means less corrugated waste.
Available as centerfold and singlewound sheeting.
For free samples and pricing, call us at 314) 968 - 1135.
You have successfully added from to your part list.
---