KU-2 DIGITAL VISCOMETER
Product Announcement from Brookfield AMETEK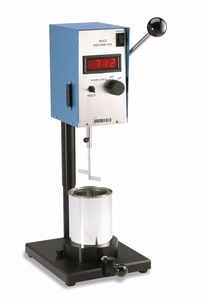 The KU-2 Digital Viscometer for paints, coatings, adhesives, inks, and pastes. Direct display of viscosity in Krebs Units, Grams and NOW Centipoise!
. Centipoise display . Continuous sensing and display . Exceptional value
Features & Benefits
. Measure paints, coatings and related materials (inks, oils, pastes, etc.) . LED digital display: Kreb Units, Grams and Centipoise* . Easy to use . . . no weights, simplifies an established test procedure . Measurement range: 40 to 141 KU, 32 to 1099gm, and 27 to 5274cP* . Accuracy to ±1% of range -- reproducibility to ±0.5% of range . Parallel printer output for automatic test documentation . Compatible with industry specification (ASTM D562) . Base accommodates standard pint, 1/2 pint and quart cans . Still modestly priced . Optional air purge
The KU-2 Viscometer is supplied with adapters that accommodate quart, pint and half pint containers.
Available Oil Viscosity Standards Viscosity standard fluids can be used to verify calibration of the KU-2. All fluids are calibrated in Krebs Units at 25°C.
http://www.brookfieldengineering.com/products/viscometers/laboratory-ku-1.asp
---