Product Announcement from Brookfield Engineering Laboratories, Inc.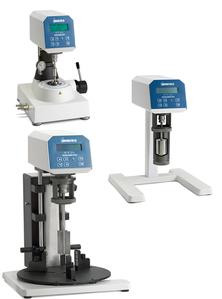 The R/S Plus series is now available with enhanced encoder for increased measuring and control capabilities while maintaining sophisticated rheological analysis - all at an affordable price.
The R/S Plus is available in three configurations: Model R/S-CC (coaxial cylinder), Model R/S-CPS (cone and plate) and Model R/S-SST (soft solids tester with vane spindles) for a variety of samples.
All R/S Rheometers have a rugged design for many years of trouble-free operation. Rapid spindle attachment and easy to clean surfaces ensure its use will save you time and money. Customers measuring thinner pharmaceuticals (under 1,000 cP) have used the R/S Coaxial cylinder rheometer because it offers robust construction needing little or no service.
R/S Plus Rheometers include such unique features as:
Wide torque range: 0.05 to 50mN.M
Variable speed from 0.01 to 1000 rpm
Stand-alone operation for quick single point evaluation or programmed tests using keypad
PC interface for powerful capability of flow curve analysis, determination of yield stress and thixotropy when running Rheo2000 software
Measurement of yield stress and strain, modulus and creep
Test method sequencing capability to assess complete flow behavior of sample including rebuild/recovery evaluation after shearing
Quality control mode enables tolerance bands to be placed around measurement data for immediate visual pass/fail determination
Applications include: Adhesives, Biomass, Chocolate, Gypsum, Pharmaceutical, Pigment Dispersions, Sauces and Syrups, Sludge/Slurries, etc.
http://www.brookfieldengineering.com/products/rheometers/laboratory-rs-cone-plate.asp
http://www.brookfieldengineering.com/products/rheometers/laboratory-rs-soft-solids-tester.asp
You have successfully added from to your part list.

Play R/S Plus Rheometer Video
---