ATEX-approved SolidSense II Pressure Transmitters
Product Announcement from Brooks Instrument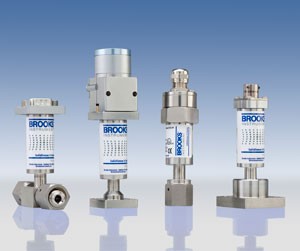 Brooks Instrument, a world-leading provider of advanced flow, pressure, vacuum and level solutions, now offers ATEX-approved SolidSense II® pressure transmitters, which provide superior corrosion resistance and measurement in industrial applications. These new pressure transmitters join Brooks' existing line of SolidSense II ultra-high purity (UHP) pressure transducers, which are proven as highly accurate measurement devices in the semiconductor market.
SolidSense II pressure transmitters have been designed with a 316L stainless steel and chromium-enriched wetted flow path, making them suitable for virtually all process fluids. Active digital temperature compensation enables highly repeatable process pressure measurement in industrial plants and applications exposed to wide variations in temperature. In combination with ATEX and Factory Mutual compliance, its high-accuracy measurement makes the SolidSense II the optimal pressure transmitter for demanding processes.
The Brooks SolidSense II UHP pressure transducers offer the lowest cost of ownership for high purity gas distribution systems through its robust design and virtually maintenance free long-term operation. The SolidSense II does not require repeat re-zeroing after installation enabling rapid equipment start up and no loss of productivity to preventative maintenance. During purge cycles the engineered stainless steel diaphragm does not require a stabilization recovery period, ensuring continuous accurate pressure measurement.
---