Brooks GF Series
Product Announcement from Brooks Instrument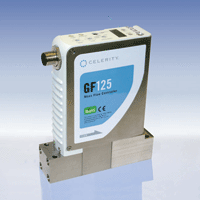 Brooks Instrument, a world-leading provider of advanced flow measurement, control and level solutions, has released new product enhancements to the GF Series ultra-high purity mass flow controllers. The GF Series is a highly modular, user-programmable, metal-sealed mass flow controller that delivers a new level of performance and flexibility. Brooks has increased the range of flow rates available on the GF Series from the current 3 sccm to 30 slpm to a new full-scale flow rate of 55 slpm.
"The GF Series install base is growing by the thousands, and we're continuing to expand the platforms functionality to meet our customers' needs and exceed expectations," said Shaun Pewsey, Director of Field Marketing at Brooks Instrument. "The GF Series delivers market-leading process gas accuracy, repeatability and response, which has been proven in a diverse range of applications including semiconductor, biotechnology, analytical systems, microelectronics, solar cell manufacturing and general research."
At the heart of the GF Series is Brooks MultiFlo™ technology, a powerful feature which enables simple re-programming of the gas and full scale range in less than 30 seconds without removing the mass flow controller from the gas line. A major advancement over traditional single point gas conversion factors, MultiFlo™ mass flow controllers can deliver up to a three-times improvement in accuracy through the application of advanced gas modeling and compensation for non-ideal/non-linear gases. Selecting a new gas automatically establishes optimized PID settings for dynamic control, compensates for gas density effects and ensures smooth overshoot-free transitions between flow rates with excellent steady state stability.
GF Series flow settling time ranges from market-leading ultra-fast 300 ms (GF125) to one-second (GF100/120). For applications requiring a slower flow response, a user-programmable ramp function linearly transitions the flow between set points over a period of up to one hour with a resolution of 2 ms. All of these features are easily accessible through the independent service and diagnostic port.
The all-metal flow path ensures compatibility with all gas media, while the GF's minimal internal surface area and fully swept flow path ensures rapid purge and clean up, enabling customers to change between gases for maximum flexibility.
Offered in full-scale ranges from 3 sccm to 55 slpm with normally open or normally closed valves and multiple communication protocols, including Analog 0-5VDC, RS485 and DeviceNet, the GF Series is a state of the art upgrade for most thermal mass flow controllers.
---