CMC and XacTorr™ Series manometers
Product Announcement from Brooks Instrument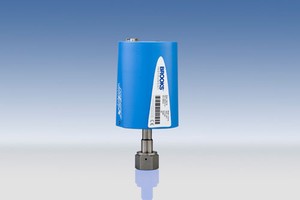 HATFIELD, Pa. (August 22, 2011) - Brooks Instrument, a world-leading provider of advanced flow, pressure, vacuum and level solutions, provides the CMC and XacTorr™ Series digital capacitance manometers. These devices incorporate industry-leading features to improve measurement reliability, minimize drift, resist diaphragm contamination and minimize thermal effects in vacuum measurement applications. The CMC and XacTorr Series are the vacuum gauges of choice for thin-film processes.
Brooks' CMC Series manometers are compact, unheated gauges featuring robust all-welded construction and Inconel® sensing diaphragm. The combination of precision components and a wide temperature compensated operating range allows the CMC Series to deliver best-in-class zero and span temperature coefficients for optimum measurement stability. They are available in full-scale ranges from 10 to 1,000 Torr, making them an ideal upgrade for small form-factor capacitance manometers and an economical alternative to full-sized unheated gauges.
Brooks' XacTorr digital capacitance manometers are premium, heated gauges that use patented dual-zone heating to ensure 0.1 degree Celsius temperature uniformity. These compact gauges provide superior reliability by combining Brooks' patented Mark-IV shielded sensor technology and patent pending digital temperature control, which reduce the buildup of condensable products that lead to process drift and premature gauge failure. The XacTorr capacitance manometers are offered in three operating temperatures (45, 100 and 160 degrees Celsius) with full-scale measurement ranges from 100 milliTorr to 1,000 Torr.
XacTorr capacitance manometers include an RS-485 dataport, enabling in-situ monitoring and troubleshooting without disturbing communication with the vacuum chamber control system. They also offer RS-485, DeviceNet or analog 0 to 10 VDC communications.
---