GF40 and GF80 Thermal Mass Flow Controllers
Product Announcement from Brooks Instrument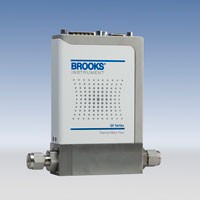 The Brooks GF40 and GF80 Series offers a highly configurable platform based on modular architecture, enabling drop-in replacement for quick and easy upgrades. These MFCs give users an opportunity to standardize on one MFC over a broad range of applications providing reduced inventory and operational costs.
The GF40 and GF80 Series leads the market in long-term zero stability at less than 0.5% per year. This specification means the device will return more reliable accuracy data for a longer period of time, giving users greater confidence in the numbers reported. The GF40 and GF80 Series is also available with Brooks' patented MultiFlo™ technology which enables superior actual process gas accuracy. MultiFlo™ also makes it easy for users to reconfigure the MFC for a new gas and range without removing the device from the gas line. These MFCs are also equipped with an independent diagnostic/service port to troubleshoot or change flow conditions without removing the MFC from service.
Newly expanded RS485 communication protocols increase the flexibility and application range of the GF40 and GF80 Series. These versions of the RS485 protocols are ideal for users of Aera (Hitachi) as well as Celerity, Tylan, Mykrolis, Millipore and Unit mass flow controllers, which are now part of the Brooks product line following its acquisition of Celerity Instrumentation in 2009. These end users can now upgrade to a device that offers better accuracy and repeatability while keeping the same communication protocols. The GF40 and GF80 Series also integrates the EtherCAT communication protocol, which is a high-performance, ethernet-based fieldbus system designed for process control applications requiring short data update times with low communication "jitter."
The GF80 features availability of a new Teflon® valve seat. The valve seat is non-reactive, which allows the GF80 to be used in applications for corrosive and reactive gases.
For more information about GF40 and GF80 thermal mass flow controllers, visit http://www.brooksinstrument.com/flowmeter-flowcontroller-products/thermal-mass-flow-meters-a-flow-controllers/multiflo-capable-flow-controllers-a-flow-meters.html
---