MT3809 Armored Variable Area FlowMeter (Rotameter)
Product Announcement from Brooks Instrument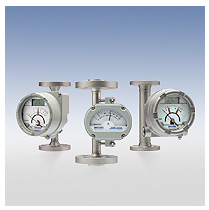 Brooks Instrument, a world-leading provider of advanced flow, pressure, vacuum and level solutions, introduces an all-new Model MT3809 armored variable area (VA) flow meter, an instrument designed to perform effectively in extreme conditions in chemicals, petrochemicals, oil and gas, and LP gas applications.
The MT3809G provides unprecedented flexibility to use a single flow meter regardless of application, process configuration or flow rate.
Brooks® MT3809G and MT3810G armored rotameters are ideal for high pressure, high temperature and other demanding applications where safety is a concern. They provide accuracy of +/- 2% FS (1% optional), and are capable of measuring high and low temperature fluids. Optional 4 - 20 mA and HART programmable microprocessor transmitter available with pulse output for totalization. Intrinsically safe or explosion-proof construction is also available.
Specifications:
Capacity - Water: lph 0.96 to 100000/gpm .004 to 440
Capacity - Air: m3n/hr 0.04 to 1200
scfm: 0.49 to 750
Accuracy Rate: 2%
Max Pressure: bar 413/psig 6000
Temp: C -198 to 420/F -325 to 788
Output: Alarm and/or 4-20mA, HART (IS or X-Proof)
Watch these videos to learn more:
Principle of Operation: https://www.youtube.com/watch?v=ImdQ2kUOrJo
Inductive Alarm Tutorial – Part 1: https://www.youtube.com/watch?v=HmMc3n1j74Y
Inductive Alarm Tutorial – Part 2: https://www.youtube.com/watch?v=zb4aW0ifeQM
Inductive Alarm Tutorial – Part 3: https://www.youtube.com/watch?v=zb4aW0ifeQM
Flow Meter, Pressure Control, Vacuum Gauges and More
Flow meters and flow controllers by Brooks are a proven solution for flow measurement and flow control challenges. With over 60 years of experience, Brooks provides Coriolis mass flow, thermal mass flow, variable area flow meter, vacuum capacitance manometers, pressure control (pressure controllers, pressure gauges, pressure transmitters, pressure sensors and more), and level measurement technologies to improve your critical processes.
For any industry, a partnership with Brooks is an investment in reliability, repeatability, accuracy and performance.
---