H-Seal Reliable, Flexible Cost Effective Solution
Product Announcement from Buckeye Rubber & Packing Co.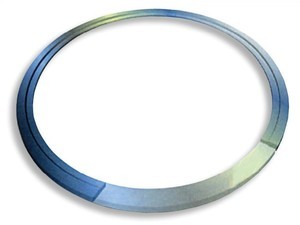 Let the H-Seal eliminate for you the additional expense associated with metal seal technology, particularly metal o-rings: low yields, extra-ordinary handling needs, less than desirable reliability, special flange polishing requirements. Metallic H-Seals by Bostec Engineering will allow you to overcome these issues, so you can use this metal seal with confidence and also cost effectively.
H-Seals will deliver an Ultra-High-Vacuum seal 100% of the time, eliminating the concern that flange scratches can cause reduced yield and expensive gland rework, often associated with the highly polished surface finish requirements demanded by metal o-rings.
Using an H-Seal allows its soft nickel alloy to be sacrificed, not your gland surfaces, which is typical with metal o-rings. When the soft nickel gasket is conformed, you achieve a leak tight seal and minor machining irregularities in your gland are absorbed by the H-Seal. You can reduce your manufacturing costs by eliminating your costly lapping and polishing steps.
Save time, space and money because the H-Seal typically requires only 20– 50% of the compressive force that metal o-rings require, thus allowing for fewer and smaller fasteners.
Because the H-Seal is self aligning, costly retainers required with metal o-rings are not needed, saving you money.
Compression of the H-Seal increases your seal integrity because the tooth stays sharp throughout the penetration process. The H-Seal design also acts as its own positive stop so you eliminate the risk of over-tightening.
Typical Services/Applications for the H-Seal System
1 - Ultra High Vacuum Services (UHV) 10¯13
2. High Pressure Services: capable of 20,000+PSI
3. High Temperature Services: capable of 2,000+F
4. Cryogenic Services
5. Automotive: exhaust systems, turbochargers, head gaskets
6. Aerospace
7. Turbines: exhaust systems, high temperatures,
8. Compressors: High pressure sides, LNG, refining,
9. Flow Control: Flow Meters valves,
10. Containment Vessels: casks, ampoules
11. Plastics: high pressures, high temperatures
12. Semiconductor: CVD,PECVD,METAL CVD,HDPCVD, SACVD, ECP
13. Pharmaceutical: UHP, aggressive chemical services.
14. Pipelines: High pressures
15. Scientific Labs: UHV systems, aggressive chemicals
16. Nuclear: Radiation, high pressures, superheated steam, casks
17. Maintenance Repair and Operations (MRO)
---