Product Announcement from Burger & Brown Engineering, Inc.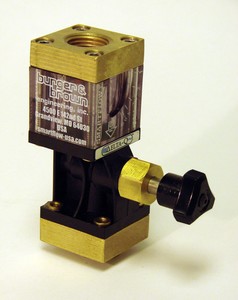 Delta-Q™ is a low-cost precision flow regulator module. Delta-Q Flow Regulator can be used with an Icecube™ Flowmeter, as well as Tracer® electronic flowmeter, aluminum and stainless steel cooling water manifolds, or as a stand-alone.The Delta-Q Regulator allows full adjustability of flow volume from unrestricted flow to complete shut off using the manual flow control knob.
Attach Delta-Q to a basic mechanical Icecube Flowmeter for economical flexibility of application. The modular design allows the addition of individual measurement components:
temperature gauge
pressure gauge
liquid-filled pressure gauge
Quick disconnect fittings can also be added to create a portable troubleshooting tool to be kept in a toolbox or mold tryout station.
In addition to the parameter measurements, Delta-Q allows technical molders to experiment with different flow rates while the meter is connected, making Scientific Cooling easier.
See page 4 of Catalog.
You have successfully added from to your part list.
You need Flash player 8+ and JavaScript enabled to view the Delta-Q Flow Regulator with Icecube™ Flowmeter video.
Get the Latest Flash player.
---