FP-1A Fin Press and Line from Burr Oak Tool
Product Announcement from Burr Oak Tool Inc.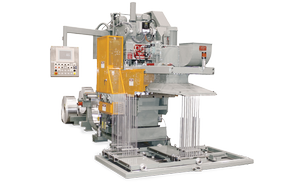 This 30 ton "C" frame style press and line consistently produces quality fins. The Oak FP-1 fin production line provides a reliable, cost effective fin making solution. Versions of this press are found in coil shops throughout the world, and continue their dependable production. From reliable stock feed to damage-free fin collection, design elements lead to quality parts and longer tool life.

A hydraulic withdrawal feature incorporated into the press slide gives access to the inner tooling of the fin stamping die without removing the die from the press.

The FP-1 fin press and line allows for the production of quality fins ranging from 1 to 108 inches long using fin stock with a maximum width of 18 inches. The press has a bed opening of 30 x 20 inches and can accommodate fin dies with a shut-height range of 8 1/2 to 10 1/2 inches. The standard stroke length offered on the FP-1A Fin Press is 1 1/2 inches. Press modifications allow for a maximum stroke length of 2 inches if taller collar heights are required.
· Production: 240-300 SPM* (*depending on die configuration)
· Footprint: (3M x 5.6M)
· Weight: 4,600KG (Foundation information supplied upon request)
· Power: Phase: 3, Continuous Amps: 26, KW: 16, Control 24 VDC
· Voltage Range: 380 to 415 Volt and Frequency: 50 cycle OR Voltage Range: 440 to 500 Volt and Frequency: 60 cycle
· Air: 60 CFM at 85 psi

Play FP-1A Fin Press and Line from Burr Oak Tool Video
---