Power Amplifiers for Military Applications
Product Announcement from CAP Wireless, Inc.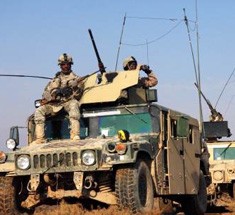 CAP Wireless broadband power amplifier solutions are especially well-suited for military electronic defense and satellite communication applications such as electronic warfare (EW) systems, radar and communication systems, laboratory instrumentation, electromagnetic compatibility and interference (EMC/EMI) testing, radar, microwave imaging, and satellite and terrestrial communications systems.
Off-the-shelf products rarely meet all of the exacting needs of military customers, and CAP Wireless excels in providing speed-to-volume for products that offer optimized performance tailored to each individual customer's system. The company's mission is to provide cost-effective, application-specific solutions with superior performance, yet with delivery times comparable to that of standard products.
CAP's broadband power amplifiers meet the specialized challenges of military defense and satellite communication applications because they provide the advantages of solid-state implementation combined with the industry's broadest bandwidth and highest power. CAP's Spatium spatial combining technology efficiently combines large numbers of amplifiers in small spaces, while at the same time providing exceptionally linear operation, highly efficient power combining, and enhanced thermal pathways, enabling superior signal fidelity and reliability. These characteristics generate less heat, conserve prime power and battery energy, and provide a high degree of robustness when operating in less than optimum load voltage standing wave ratio (VSWR).
---