Portable Strain Gauge Data Logger
Product Announcement from CAS DataLoggers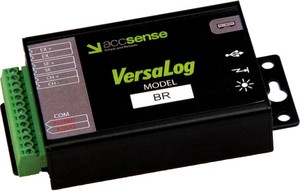 Accsense VersaLog Offers Unmatched Value
CHESTERLAND OH—January 26, 2015
For mechanical engineering R&D applications, CAS DataLoggers introduces the VersaLog BR, a single-channel, battery-powered strain gauge bridge datalogger. This model supports 4/6 wire wheatstone bridges by providing voltage excitation, excitation voltage compensation, and low-level signal amplification. With high speed, 4MB flash memory and an alarm output, VersaLog dataloggers offer great value for the money. Their ease of use and powerful software has made them a popular choice with engineers and technicians alike. Give us a call at (800) 956-4437 to learn more.
Standalone Operation:
The VersaLog BR strain gauge logger accurately measures machinery-generated stress, for example in testing for aircraft components. The VersaLog BR features a measurement input voltage range of -8 mV to +8 mV to accommodate most common bridges with a sensitivity of up to 3 mV/V. Featuring a 16-bit ADC and a programmable input range, the logger is well suited to applications where precise and accurate measurement is critical.
These compact dataloggers allow for flexible placement wherever needed. The built-in lithium battery provides up to 10 years of instantaneous logging operation when sampling at interval of once every minute. Meanwhile VersaLog's rugged, splash-resistant aluminum enclosure and PCB coating protect the internal electronics against moisture, giving excellent performance in the harshest industrial environment.
The VersaLog BR supports a wide sampling interval range from 20 milliseconds to 12 hours. Measurements are recorded and saved to the internal 4MB flash memory for later retrieval. The datalogger has both a TTL-compatible serial port and a USB interface to suit different communications requirements.
Alarm Capability
Accsense VersaLog data loggers provide alarm outputs controlled by the low and high programmable alarm thresholds of each enabled channel. These can be used to connect with external alarm devices such as strobe lights, sirens or alarm telephone dialers.
Siteview Software
SiteView is a Windows-based application which works with VersaLog Series data loggers for downloading, configuration, data analyzing and plotting. Its user-friendly graphic interface and robust functionality suits both novice and advanced users.
Supports USB, Serial port and Ethernet connections for easy local and remote access
Fast communication speed up to 115200 bps for fast downloads
Zoom in/zoom out and annotation/label of graph functions provides detailed view of data
Multiple file loading allows easy data comparison
Dynamic statistics provide detailed information of current zoomed view
Additional Values
Accsense VersaLog dataloggers are a powerful low-cost solution for data recording applications that also require a local alarm notification. These stand alone recorders commonly feature 7-8 channels with models to log temperature, humidity, current or voltage. All VersaLog data loggers have a built in USB port for connection to a PC for configuration and downloading data.
To get more information on our new Accsense VersaLog data loggers with models recording temperature, humidity, voltage, and current, or to find the ideal solution for your application-specific needs, contact a CAS Data Logger Applications Specialist at (800) 956-4437 or visit our website at www.DataLoggerInc.com.

Contact Information:
CAS DataLoggers, Inc.
12628 Chillicothe Road
Chesterland, Ohio 44026
(440) 729-2570
(800) 956-4437
sales@dataloggerinc.com
---