QL 3-Pole Miniature Circuit Breakers
Product Announcement from CBI-electric: low voltage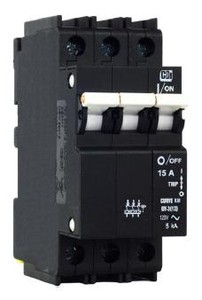 Features Include:
AC Circuit Breaker
Hydraulic-Magnetic TEchnology
100% Rating Capability Independing of Ambient Temperatures
CSA,VDE, CE and CCC Approved
UL Listed (UL 489)
Ratings up to 25A
Optional Auxiliary/Trip Alarm Switch
Wide Range of Time Delays and Operating Currents
Precision tripping
Current Limiting Capabilities
Ultra Compact
Trip Indication with Mid-Trip Handle
Reset Immediately After Overload
DIN and Dual Rail Mounting
CBI-electric: low voltage, is a supplier of quality low voltage electrical distribution, protection and control equipments. With an exciting background of ground breaking achievements, CBI-electric: low voltage has prospered for more than five decades to become a leader in the design, development and manufacturing of Circuit Breakers, Residual Current Devices, Surge Protection, Wiring Accessories and Metering Products. CBI-electric: low voltage supplies products to supply authorities, utilities, original equipment manufactures, commercial property developers and into industrial, mining, telecommunication and general power distribution applications.
---