Product Announcement from CCI Thermal Technologies Inc.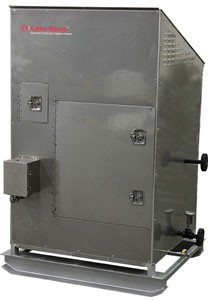 The Cata-Dyne™ LH Line Heater prevents equipment freezing and possible hydrate formation during pressure reduction at natural gas regulating sites. The Cata-Dyne™ Line Heater heats the gas stream using infrared radiant heat transfer, eliminating the use of burners, glycol fluid and high maintenance heat exchange systems. It is also used to condition fuel gas for natural gas fired turbines or engines, and for heating of gas and diluent streams in a variety of process applications.
Custom engineered units for non-standard applications are available. As a subset to custom engineered units, only CCI Thermal offers a Catalytic/Electric Hybrid Line Heater. A secondary electric gas circulation heater augments the capabilities of the base catalytic line heater providing enhanced responsiveness to gas flow transients and deeper turn-down capabilities.
Available standard sizes from 40,000 to 160,000 Btu/hr input.
Enclosures feature galvanized steel structures with stainless-steel cladding, limiting corrosion and maintenance.
Optional automatic units feature engineered control panels with PLC control systems.
The flanged multi-pass coil heat exchanger is designed and built to the ASME B31.3 Code for Process Piping.
Fuel gas system designed and built in accordance with CSA/Can – B149.1 and NFPA 54.
Electrical system designed and built in accordance with CSA/Can – C22.2 and NEC (NFPA 70).
Infrared radiant energy provided by the silent Cata-Dyne™ WX Gas Catalytic Heater is NOX free for the cleanest and quietest heating system available.
CCI Thermal Cata-DyneTM heaters are the first and only explosion proof catalytic units conforming to the ANSI Z83.20b-2011/CSA 2.34b-2011 standard for Gas-Fired Low Intensity Heaters and are CSA and FM certified for use in Class 1, Division 1 or 2, Group D hazardous locations.
You have successfully added from to your part list.
---