Pivot Bearing More Popular Than Ever
Product Announcement from C-Flex Bearing Co., Inc.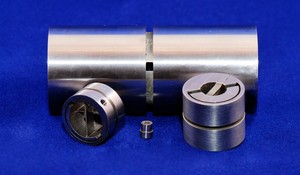 The C-Flex Bearing Solution: Not a new concept but growing in popularity as a preference for motion control
C-Flex bearings are based upon proven design concepts used for years in a wide variety of applications. The growing popularity of the C-Flex bearing is not only due to the quality of the product but it's adaptation in today's GREEN TECHNOLOGY efforts. Our design utilizes crossed springs made to exacting tolerances of high-strength corrosion-resistant steel, capsuled in a cylindrical housing, to provide angular travel up to +/- 30°, without the use of lubricants. These bearings provide unmatched performance characteristics for life, accuracy and resistance to detrimental environmental conditions. Again, they require NO Lubrication, can function at limited angular travel for an indefinite number of cycles, are frictionless, and have extremely low hysteresis. Problems related to common ball and rolled bearings in limited angle oscillating applications such as lubrication migration and brinelling are eliminated. Starting and running torque variations due to thermal and lubrication variations do not exist. Contamination of sensitive electronic or optical systems due to the escape or out-gassing of lubrication through bearing seals is no longer a concern.
Design
C-Flex bearings consist of an inner and a two part outer spring which interlock and are crossed at a 90° angle. These springs are fabricated of high quality stainless steel to provide the ultimate in corrosion and fatigue resistance. Each C-Flex bearing size can be provided with three torsional spring rates. This is accomplished by utilizing the same spring design and varying only the thickness. Spring rates can be provided to meet specific customer requirements.
Performance
The C-Flex crossed spring design, capsule in a cylindrical housing results in a radially and axially stiff structure while providing for angular travel at known torsional spring rates. Since there is not rubbing or sliding friction inherent in the bearing movement, this design provides exceptional accuracy and repeatability. Without the limitations of seals or lubrication, temperature ranges which would destroy common bearings are easily tolerated. Unaffected by a vacuum, applications requiring precision movement or positioning under these conditions can easily be provided through the use of C-Flex bearings.
A Superior Choice
C-Flex bearings are free from inaccuracies exhibited by ball and roller bearings due to friction, wear and backlash. They exhibit a constant linear torsional spring rate and are self centering when deflecting forces are removed.
Conventional bearings are designed to operate under continual rotary motion so as to evenly distribute lubrication and wear. When used for oscillating or limited motion applications however, lubrication migration and eventually brinelling will result in inaccurate movement.
Jeweled or ceramic bearings have limitations. Although they don't require lubrication, they still suffer frictional inaccuracies, are sensitive to damage, and are difficult to adjust.
You have successfully added from to your part list.
---