Fanless, Expandable Box PC
Product Announcement from CONTEC Co., Ltd.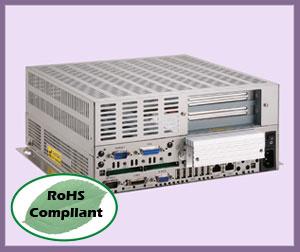 The BX900 Series is also available without expansion slots or with x4 expansion slots. System interfaces include dual Giga-LAN, USB2.0, twin CF card slots, and 2 x RS-232C. It has a 3.5" SATA slot-in hard disk bay which supports high speed and high capacity hard drives. To ensure a long-term, stable supply, Contec utilizes an embedded CPU and chip set. A CONTEC-customized BIOS is adopted to provide BIOS level support.
FEATURES
LOW VOLTAGE CORE™ DUO PROCESSOR L2400(1.66GHz), 945GMECHIP SET AND 1GB OF MEMORY
System was designed to offer both high level computing power and crisp video rendering.
PATENT PENDING NATURALLY AIR COOLED SLOT-IN 3.5" SATA HARD DISK BAY
Contec's front loading, slot-in drive bay enables easy maintenance. The aluminum drive bay enables even heat dispersion maintaining an even 40°C ambient temperature
INTERFACES INCLUDE DUAL GIGA-LAN, 6 x USB2.0, TWIN BOOTABLE CF CARD SLOTS
SPECIFICATIONS
CPU
Low Voltage Intel® Core Duo Processor L2400 (1.66GHz), FSB667MHz
Chip Set
Memory
Main Memory -1GB, 200pin SO-DIMM socket x1 (PC2-4300-DDR2 533)
Video
Controller - Built-in 945GME
Video RAM - Main memory shared
Video BIOS - 64KB (C0000H - CFFFFH)
Display I/F - Analog RGB x1 (15pin HD-SUB connector) / LVDS x1 (26pin half-pitch connector)
AUDIO
Output: Line OUT x1 (Stereo full-scale output level 1.5Vrms, Dual 50mW amplifier)
Input: MIC x1 (monaural), Plug type: Φ3.5pin jack
SERIAL ATA
Slot-in style hdd bay for x1 SATA 3.5" - Serial ATA1.0-compliant
COMPACT FLASH SLOT
SERIAL I/F
RS-232C: 2ch (Port1, 2), 9pin D-SUB connector / Baud Rate: 50 - 115,200bps
For touch panel communication: 1ch (Port3) in LVDS connector
RS-422/485: 1ch (Port5) in RAS connector
LAN
2x 1000/100/10Mbps (RJ-45 connector)
Wake on LAN support
Controller: Intel 82573L
USB
GENERAL PURPOSE I/O
3 each opto-isolated inputs / outputs
1x input can serve as remote reset
1x output can serve as external WDT
RAS function
Watchdog timer: 1 - 255sec; Reset, interrupt or external output at time up
Remote reset: External input signal
HARDWARE MONITOR
Monitors CPU and board temperature, power supply voltage
EXPANSION SLOTS
IPC-BX900-AC5: none
IPC-BX900P2-AC5: 1x PCI Express x1, 1x PCI
IPC-BX900P4-AC5: 2x PCI Express x1, 2x PCI
RTC/CMOS
Lithium backup battery MTBF: 10 years @25ºC
Realtime clock: Accurate to less than 3min / month @25ºC
POWER MANAGEMENT
Setup via BIOS
Modem Ring On / Wake On LAN
Supports PC98/PC99 ACPI power management
POWER SUPPLY
Input voltage: 85 - 132VAC / 170 - 265VAC - auto-switch
Power consumption IPC-BX900-AC5: 105VA (max)
Power consumption IPC-BX900P2-AC5: 123VA (max)
Power consumption IPC-BX900P4-AC5: 141VA (max)
EXPANSION BOARD POWER CAPACITY
IPC-BX900-AC5: None
IPC-BX900P2-AC5: +12V-0.5A, +5V-1A, +3.3V-1A, -12V-80mA
IPC-BX900P4-AC5: +12V-1A, +5V-2A, +3.3V-2A, -12V-80mA
External device power capacity
CF card slot: +5V, 500mA
USB I/F: +5V, 3A (500mA x6)
DIMENSIONS
IPC-BX900-AC5: 262mm (w) x 262mm (d) x 65mm (h)
IPC-BX900P2-AC5: 262mm (w) x 262mm (d) x 120mm (h)
IPC-BX900P4-AC5: 262mm (w) x 262mm (d) x 160mm (h)
WEIGHT
IPC-BX900-AC5: ~3.2kg
IPC-BX900P2-AC5: ~3.9kg
IPC-BX900P4-AC5: ~4.3kg
OPERATING TEMPERATURE
Using HDD: 5 - 40ºC
Using CF: 0 - 50ºC
STORAGE TEMPERATURE
OPERATING HUMIDITY
10 - 90%RH (no condensation)
FLOATING DUST PARTICLES
You have successfully added from to your part list.
---